Here's a great way to get inspired and thrive while finding new ideas and ways to spend some quality time with the family, YAY! Our friend, Amy at Mama Scout is offering a 10 day "Holiday eLab" packed full of  creative challenges, ways to prepare for the holidays, ideas for clearing space (mental and physical), simplifying gift giving, dealing with family struggles, honoring nature through solstice celebrations, ways to give back to your community and more.
This "lab" is a virtual program, kind of like a class you take online, but you work at your own pace with information and inspiration shared via email. You'll also get access to a private Facebook group to share ideas and insight as you work through the program. Love the idea of sharing in the creative process… it's such a great way to work through any struggles or ideas you might have.
Who couldn't use a daily inspiration to thrive and create this holiday season?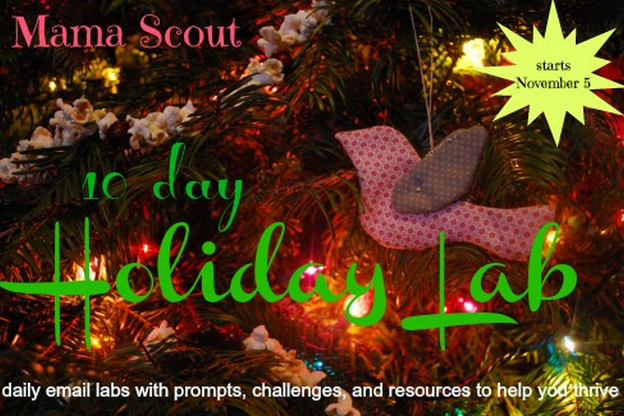 Each day you'll receive an email with the inspiration for the day, it's yours to keep and use as you like when time permits.
Win 1 session of Holiday Lab from Mama Scout
The Giveaway
Today through Friday, November 2nd, 2012 you can enter to win 1 free enrollment in this holiday lab – Double Yay!
How to enter:
Read more and tell me why you are excited about this program. Visit Mama Scout's Holiday Lab information page  and read more about this fantastic holiday elab program. Then, come back here and leave a comment telling me what you like most about this program.
That's it!
The rules:
You must be 18 and over to enter. Entries close at 7pm EST on November 2, 2012. A winner will be selected and contacted via email (so make sure to use an address that you check). You have 24 hours to reply and confirm your prize or a new winner will be selected.
Good luck and here's to your creative holiday success! (Feel free to pass on this information, the more the merrier, right!?)