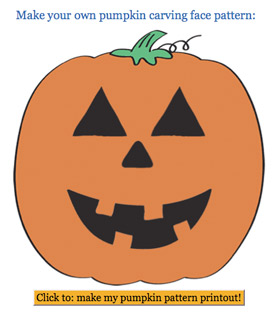 Choose from a variety of eyes, nose and mouth styles to create your own pumpkin carving pattern. Once you create the face you like, simply click on the "print out my pumpkin printout pattern" and an image is generated for you to print. Use it to carve your pumpkins, make stencils for other Halloween projects and more.
There are a wide variety of websites offering free printable pumpkin stencils and patterns for your pumpkin carving fun. This particular program was designed more with the idea of easy pumpkin carving patterns. Perfect for little hands to help create and everyone can enjoy! You can literally create hundreds of different pumpkin faces, all simple to create on your own pumpkin.
Design your own pumpkin carving stencil
Other uses: cut out the pumpkin faces and use as a stencil to paint on your pumpkin or cut out other craft materials such as craft foam or cardstock and make a pumpkin face you attach to your pumpkin, or pumpkin craft.