Every year I get new Easter baskets for my kids. We usually don't make baskets for the Easter egg hunts, but I do like to make baskets for decorations. However, I started looking around for great Easter baskets to make and decided, this year I really need to try to make my own. Do a little recycling, a little crafting and tie it up with a fancy Easter ribbon and call it fabulous! Here are some ideas to get you started.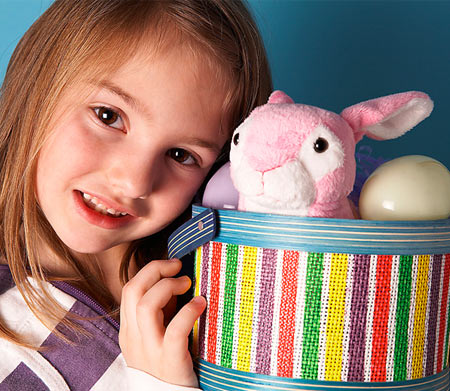 Easter Baskets to make with your preschooler:
More ideas for Easter Baskets to make:
Here are some thoughts of supplies you can use to make Easter baskets…
Milk carton
Baby formula can
Food tubs such as butter, cream cheese or yogurt
Egg cartons (tiny baskets)
Paper or plastic cups
Plastic beach buckets
Recycle last year's basket into something new and fabulous
Cereal box cardboard
Child's shoe box
Materials you can use to decorate your Easter baskets…
stickers
stamps
paint
construction paper and glue
ribbon
glitter
craft foam
felt
There are a ton of things you can use to make your own Easter basket projects. Really all you need is some kind of container and a handle; dress it up with some pretty stickers, paint, a splash of glitter and you're good to go! Next time you're cleaning out the fridge or the pantry, think twice before you throw out the butter tub or an old rice box… they might just become perfect Easter baskets to make with your preschooler!