I recently went to the Dollar Store and have a great variety of foam stickers. Using some packing foam that came in the box with an electronic product and these stickers, I was able to create foam stamps my preschooler loves. You can make a ton of different shapes for very little cost. The stamps can then be used with craft or tempera paint to make fantastic pictures and other stamping projects.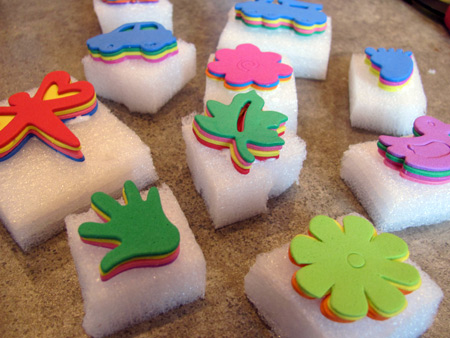 To make foam stamps you need:
A package of foam stickers
packing foam cut into cubes (you can use any cube shaped items if you don't have packing foam)
Alene's tacky glue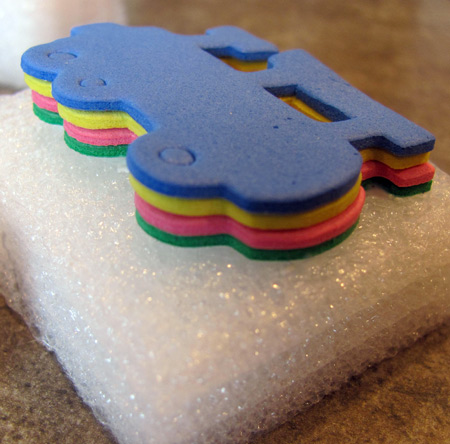 Directions:
Adhere same stickers on top of one another, at least 3 high.
Adhere sticker stack to packing foam cube. If you find the sticker glue isn't adhering well, use glue to create a sturdier attachment. Let dry.
Voila, that's it!
Note: if you can't find foam stickers but you do have craft foam sheets, try cutting out your own fun shapes to create your stamps. Just remember to make the stamp at least 3 layers tall to ensure good stamping.
To create projects with your new stamps, just place craft paint on a flat surface (we use the plastic lid from a tub of ice cream). Pat the stamp into the paint and then on to your project surface or paper.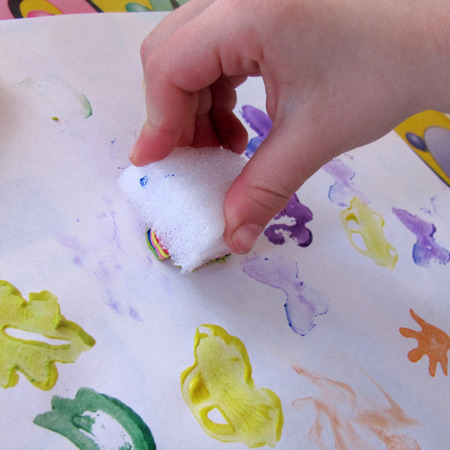 This project has been shared at: Crafty Moms Share – Sharing Saturday