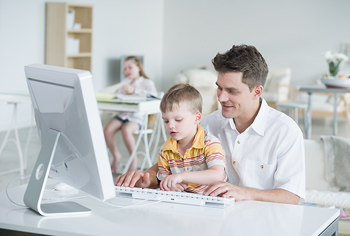 There are so many different places to find fun games for preschoolers on the internet and many of these games sites are free to play as much as you'd like.
Online games are a great addition to other learning activities, board games, crafts and various projects. Your preschooler can play games that focus on the alphabet, cause and reaction, numbers, shapes, colors and so much more. So the next time you're looking for a quick activity, consider playing an online game. There are plenty of options to choose from!
Another benefit to playing online preschool games are the computer skills your child will learn. Hand-eye coordination, mouse use and control as well as keyboard use. Even at a young age, kids can easily pick up these technology based skills they will use throughout their life. Allowing them a level of comfort and familiarity before they reach grade school.
Here are some of our favorite places to play preschool games online:
You'll find your favorite characters in interactive settings your kids will love. Watch short cartoons, read stories, learn letters, play matching games and so much more!
Preschool game portals:
Character specific preschool game websites:
If you have a favorite online preschool game site, contact me know!
For more fun game ideas for preschoolers, check out our preschool games section.