This week was filled with colorful projects and lots of painting. It seemed every where I looked someone was sharing a preschool painting project… someone must be itchin' for some art fun! However, I decided to share a variety of ideas I discovered throughout the week to inspire all kinds of fabulous preschool fun.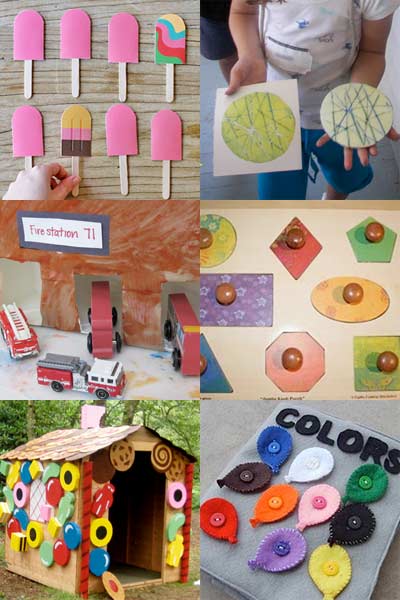 Pasta machine prints from Carle Museum
Carve designs into craft foam to make really cool prints.
Homemade fingerpaint from Dollar Store Crafts
Make your own finger paint – imagine how many colors you can create!
Whimsical outdoor play spaces from the Nurture Store
Outdoor playtime never looked so fun!
The making of a colors quiet book from Julie Rosenhan
Super cute hand crafted book made of felt, featuring color learning.
Leaf and Fern print T-shirts from Artful Parent
A fun Autumn activity – wearable art project.
Popsicle Memory Game from U Create with Kids
This is an adorable game you can make yourself and focus the learning on simple patterns, shapes and colors.
Family shape puzzle – upcycle project from Pink and Green Mama
I love this gift idea, you could create one of these for all your favorite folks!
Sponge Balls (aka sponge bombs) from Counting Coconuts
It's still warm enough for some water fun, here's a great game to take outside.
Tons of fun sharing thanks to our Facebook friends for sharing these fantastic finds:
Teach Preschool, The Nuture Store, Dollar Store Crafts and Messy Kids
(All images copyright their respective owners.)