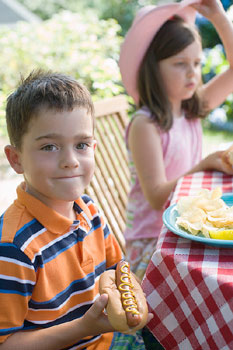 Labor Day is supposed to be the day of non-laboring. Enjoying time with family, relaxing and appreciating all the hard work we all do as well as those who work around or for us. However, anyone with young kids knows there is no day off. Here are some preschool project ideas for fun on Labor Day so you can enjoy the day while your kiddos enjoy it too. These are great activities to include in your BBQ fun inside or out:
Play Games – have a bean bag toss with quick and easy no sew bean bags, set up a game of Hop Scotch, set up a ring toss game or play the red light green light game (for inside play, make this a walking game).
Make a coloring corner with free printables and coloring pages such as our Happy Day cupcake coloring page, the Monster truck coloring page, or find other fun coloring pages your preschooler is sure to love.
Make a yummy treat with your preschooler. There are a ton of great foods your preschooler can help make with you that you'll both love. Try cake mix cookies, a batch of grape pops, ants on a log, or shake it up salsa to go along with a big bag of tortilla chips.
Even if you aren't hosting a big event or going to a neighborhood party, you can have a picnic at home with the kids. There's so much fun to be had on a day like today. You don't have to work hard to make it a special day. Labor Day should be a time to enjoy eachother, enjoy family and do something fun together. I hope you enjoy yours!