Here's a quick craft you can create for your Autumn decor or Thanksgiving festivities. Using hand print cut outs, create a wreath with your preschooler that you can hangup to display or use as party of your table center piece. The handprints are easy to make if you have a hand print template, trace your preschooler's hand on to card board, cut out and use to repeat the shape on to as many pieces of paper as you'd like. If you do the cutting, your preschooler can help you assemble the piece and glue together.This handprint wreath is a fantastic project to include notes of Thanks as well. Write thoughts of thankfulness on each hand before hanging it up to display.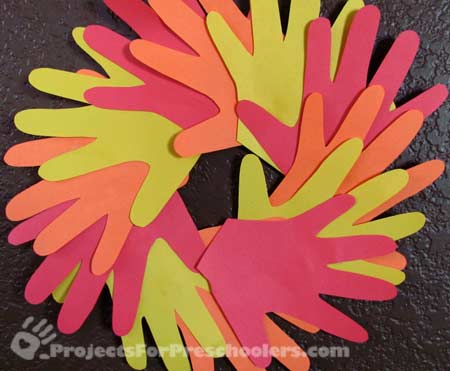 For this project I used standard construction paper in orange, red and yellow along with basic glue.
Lay out the hands before gluing in place so you can get an idea of how far to spread them out to make a complete circle. Your preschooler can then help by apply the glue as you carefully hold up the edges of various hands to be adhered together.