We LOVE penguins in this house so naturally Happy Feet Two s on the MUST see list. We weren't able to catch the show on opening day, but we did check it out shortly after.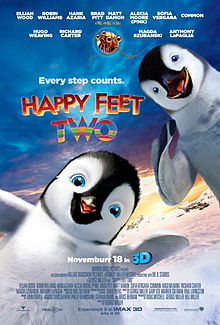 There's all the dancing and singing we fell in love with in the first Happy Feet. The second movie has some new characters and an interesting new moral to share. My older kids enjoyed the show, my 8 year old especially. However, my preschooler fell asleep about 20 minutes in. We did see an evening show, so that could have played a small role, however the story line of Happy Feet 2 was a bit more serious than the first with some odd twists that didn't necessarily seem to fit until the movie was near it's end.
The messages we took away from this movie:
Be honest and proud of who you are.
Work together and great things can happen.
Even the smallest action (or person) can make a difference.
From an adult perspective, this movie has some big stars, good clean messages and fantastic graphics. The voice overs were great and the movie was fun to watch. If your preschooler is a huge penguin fan, I think they will enjoy Happy Feet 2. If they are more into cute cartoons, this might be a bit old for them yet, all in all it's a good family film to see together.