Tomato soup and grilled cheese sandwiches are a classic that warm the tummy and are fun to make. If you're short on time, whipping up a batch of pre-made tomato soup is a great option for lunch or dinner. However, if you have the time to make soup from scratch this recipe is easy packed full of nutritional goodness and sure to please even the non-tomato fans in your family. Your preschooler can help you with soup ingredients as well as assembling the sandwiches before you grill them.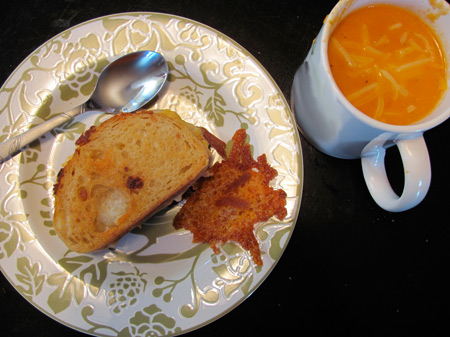 How to make homemade Tomato soup
Ingredients needed:
8 fresh medium sized tomatoes chopped
1/2 cup chopped carrots
1/2 cup chopped celery
1/4 cup chopped white onion
32 oz chicken stock
1 T fresh chopped parsley
1 T fresh chopped cilantro
1 tsp garlic
1 tsp salt
1 tsp black pepper
2 cup milk
2 T grated Parmesan cheese
1/2 shredded Monterrey jack & Colby cheese (or cheddar)
Combine all ingredients, except milk and cheese, in a large pot and bring to boil. Cook until carrots are soft, approximately 30 minutes, stirring occasionally. Remove from heat. Puree mixture in blender or food processor. Return to pan, add milk and cheese, stir and simmer for 15 minutes.
Tip: adjust the amount of chicken stock added to increase or decrease the thickness of the soup.
Note, to speed up cooking time, place carrots and celery in microwave safe bowl with at least 1 cup liquid. Microwave on high for 4 minutes, stir and cook for another 4 minutes. Repeat until carrots are soft.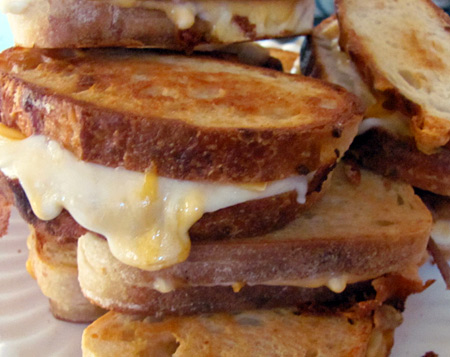 How to make yummy cheesey grilled cheese sandwiches
Ingredients:
Artisan bread, sliced
American cheese slices
shredded Monterrey jack & Colby cheese
Additional cheese slices, Muenster and provolone work well
Butter
Preheat a griddle or skillet to approximately 325 degrees. Butter one side of each piece of bread. Place 1 slice of bread per sandwich, butter side down on griddle. Layer cheese on bread, combining a variety of cheeses. Top with a piece of bread butter side up. Grill for approximately 5 minutes or until bottom bread is toasted and browned. Flip sandwiches and grill until golden. To serve preschoolers, cool slightly before eating.
Bonus: Make yummy cheese crisps as a snack while the griddle is hot, generously sprinkle shredded cheese directly on to griddle let cook for a minute or two and then flip the cheese over to cook another minute. Remove from heat, before they completely cool, cut into pieces with a pizza cutter.