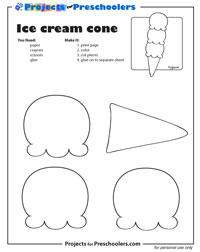 This is a yummy project that can help your preschooler work on counting, colors, shapes and following directions while creating a cute ice cream cone. For older children, this is a great project to practice using scissors. You can even create a cute ice cream cone greeting card using this project page as the template.
There are two versions of this project page. The advanced version allows for a bit more difficult cutting and shape recognition.
Download the easy ice cream cone activity page
Download the advanced ice cream cone activity page
You will need:
Project print out
Crayons
Safety scissors
Glue
How to make it:
Color the 4 shapes on the project print out, each a different color. The circles are the ice cream scoops, the triangle is the cone.
Cut out each shape.
Glue the shapes on to another piece of paper in this order: cone, bottom scoop, middle scoop, top scoop.
For extra craft time, glitter or stickers can be added.