Did you know… June 5th is Richard Scarry's birthday! Richard Scarry a children's book author and illustrator extraordinaire, creator of Busytown. As a child, Richard Scarry inspired my creativity. As an artist, Richard Scarry continues to inspire my sense of detail, character building and imagination. As a Parent, Richard Scarry inspires teaching of problem solving, diversity and creative play.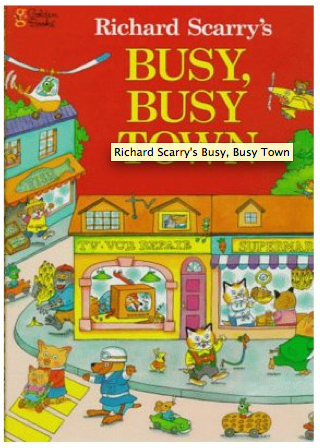 Growing up, The Busy World of Richard Scarry was one of my favorite books. There were to many details and fun things to look at in the illustrations.Busy Town was indeed a very busy town and I enjoyed discovering new things every time I looked through the book. The stories are always lesson inspired. The animal characters of Richard Scarry's books are engaging and fun. Busy Town eventually made it to cable television, first airing on Showtime and then Nick Jr.
As an adult, I still love to look through the books and discover all the fabulous details in Richard Scarry's  Busytown scenes. As a parent, I think its a fantastic opportunity  to share the activity and character problem solving with my preschooler. Richard Scarry stories are always about helping and figuring out solutions. The characters get out and move, they work together and they explore issue they may not know answers to. Although the characters are critters, they face issues we all deal with and can relate to.
What kind of fun will Busytown inspire for you? Here are some ideas:
Have fun with pretend play and dress up.
Create animal finger puppets.
Make or draw your own vehicle.
Talk about different jobs and what those people do.
Draw your own busy scene.
Go on a "people hunt" at the store or mall, looking for different types of people and talking about what they're role is at the store. (e.g. cashier, sweeper, deli, sales person, security officer, etc.)
Make a cardboard shop. Pretend flower shop, bake shop, auto shop, etc.
Make up your own Busytown stories.
Google has a classic Richard Scarry's children's book illustration displayed as the main image today in honor of the author's birthday.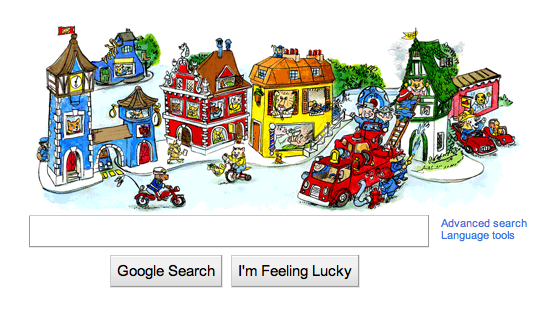 Even Lowly worm has a spot all his very own. When you are viewing search results on Google, Lowly's happy face has replaced the letter L. Who doesn't love Lowly worm?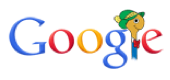 Richard Scarry books are classics we can enjoy over and over with our own preschoolers. Here are a handful of the books available.



Do you have a favorite Richard Scarry book?