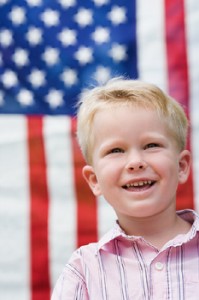 July 4th celebrations are fun and exciting for little ones. However, sometimes it can difficult to come up with activities that are age appropriate, just as exciting as fireworks and that can take place before dark. Andrea Stein has some great suggestions for games you can organize for even the younger kids at your July 4th get together.
Fun 4th of July Games For Kids
The Fourth of July will be here before you know it and what better way to celebrate Independence Day then with some fun 4th of July games for kids? It could be hard for kids to come up with something on their own, or they may be looking for something special, so here are some Fourth of July activities for kids.
Bike Parade
Kids love their bikes, why not have an Independence Day bike parade? Get lots of red, white and blue streamers, mini flags and other themed stuff and encourage them to decorate their bikes for the parade.
Invite all the other kids in the neighborhood to decorate their bikes and get a parent to act as a parade marshal. You can pull younger children in a decorate wagon, and take few turns around the block. Add in a portable radio with some marching music and you'll have a festive event in not time.
Flag Relay
Suggest a game of flag relay. Here are the rules:
Get mini-American flags, one for each player. Split the kids into two teams. Create starting line and a finish line. Set up two buckets of sand at the end line and put an equal number of flags in each one. One activity your children may like to try is a flag relay. Here's how to play the game:
Let the teams line up and say Go. The first child will run from the start line to finish line, pick up a flag and then march (not run) back to the rest of the team. The player must tag the next runner who will race to get the next flag and then march back.
Keep at the game until all the flags are gone. The first team to get all the flags is the winner.
Cake Decoration Competition
Another fun Fourth of July game is a cake decorating competition. You can use cupcakes instead of entire cakes – you can even buy these unfrosted at a bakery if you're short on time. Buy lots of red, white and blue sprinkles and frosting and let the kids decorate their own patriotic creation.
With these 4th of July games, your kids will have a great time celebrating the birth of the nation – and you'll get to enjoy a relaxing barbeque with the grownups.
Andrea Stein is the founder of GirlMogul.com an online community for encouraging successful tween girls. Go to GirlMogul.com to join the free Girl Power Club and claim your free book GirlMogul Girl Power Guide.
Article Source: http://EzineArticles.com/?expert=Andrea_G_Stein
More fun July 4th game ideas: