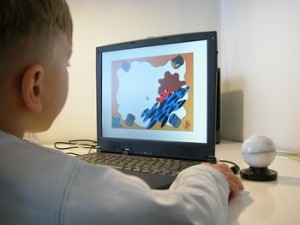 The internet offers a wide variety of opportunities for kids to learn and preschoolers are no exception. There are hundreds of free online games geared specifically toward preschool education, encouraging our youngest family members to play to learn while also teaching valuable computer skills.
Whether you are a teacher or a parent, you'll find games to teach your preschooler everything from letters and numbers to early reading, math and science. There are also a wide variety of games with that will teach skills for problem solving, safety, coorporation, hand-eye coordination and much more. Finding the right game for your child is as easy as searching on Google.
A few things to consider when looking for online preschool games:
What computer skill level is expected to play the game – not only is the level of learning important, but the technical skills needed interactive with the game are important as well. Some skills will require parent-child interaction while other games can be played by a child on their own. Be aware some games are easily playing with the simple ability of touching any key on the keyboard, while other online preschool games expect the player to have strong mouse control skills.
What is the language level used – communication is important when utilizing online games for preschool learning. Does the game include verbal cues or narrative, or does the game require reading skills? Keep in mind, some games allow for skill level settings.
What are the visuals for the game – some online games feature popular, well known characters while other games are more of a home grown variety with characters not familiar with main stream media. Are the characters and visuals used age appropriate? Sometimes visuals that are too complex can be overwhelming for young children while other characters might be too "baby" for other kids.
Find more with similarities – Once you find some games your child enjoys playing that you feel are appropriate, make a note about the things you child likes. This will help you find more games with different skill focuses that you child might also enjoy.
Skills needed to play online games:
While any preschool game found online can be played with an adult, there are many games that kids can play alone if they have a few computer skills. Here is a list of skills to teach your child, or that can even be learned playing online games:
Keyboard use
Mouse control and cursor recognition
Understanding Play controls within games (start, stop, volume, etc.)
Games available to play online for preschoolers: