Using 2 juice bottles, a little paint, glue and paper and you can make a fun dinosaur that can move it's head as it stomps around the house. Your preschooler can help decorate the dinosaur and enjoy hours of pretend play with this fun project. As a happy accident in the process of making our dinosaur, we discovered that roaring into the mouth piece of the dinosaur head, your preschooler can even sound like a big dinosaur.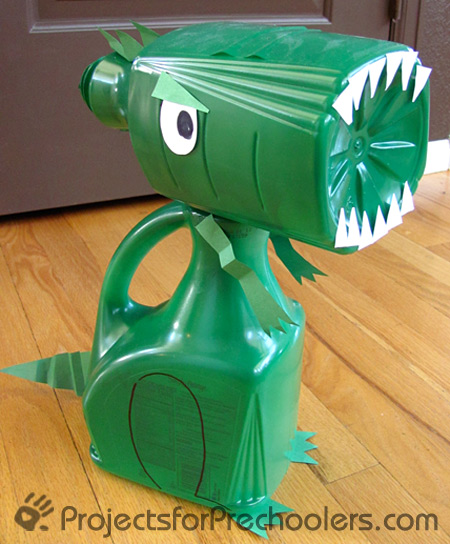 Materials you'll need to make your recycled juice bottle dinosaur
1 gallon juice bottle with side handle
1 quart juice bottle (both of our bottles were orange juice containers)
Krylon Fusion plastic spray paint in green
Green construction paper
White paper
Craft glue
Permanent black marker (adults use only)
Sharp scissors (adults use only)
How to make a recycled juice bottle T-rex dinosaur
Please note, the majority of this project is to be made by an adult. Preschoolers can help cut paper and glue pieces on or decide how to make the dinosaur look. Spray paint and plastic cutting is not safe for young children.
Cut a hole on one side of the quart sized juice bottle so it will just fit on to the mouth of the larger bottle. Make sure to cut the hole just slightly smaller than the spout you want to fit it on because you do not glue in place. Gluing in place would prevent the head from moving around.

juice bottles for dinosaur T-rex

Spray paint the entire piece and let dry at least 24 hours.
Cut out white circles for eyes and draw in black eye center (pupils). Glue in place.
Cut out small arms, feet, tail and eyelids from green construction paper. Glue in place. For extra dimension, accordion fold arms and tail.
Cut small white triangles and glue in place for teeth.
Draw leg muscles and any other accents you'd like.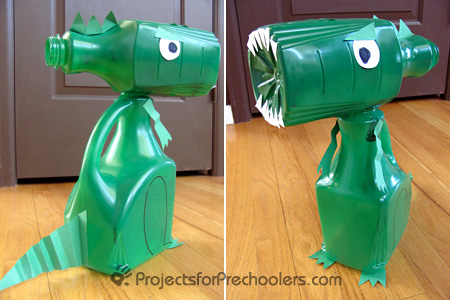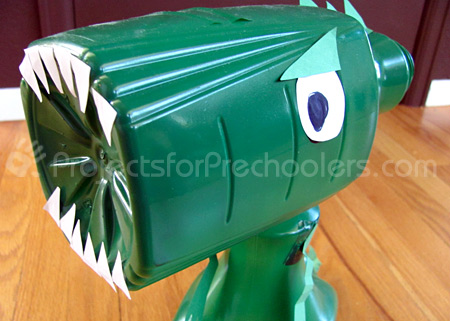 You could make a whole army of juice bottle dinosaurs. Combine various bottle sizes and shapes, add a little imagination and glue and you're ready to go. Your preschooler can have fun stomping around and playing prehistoric with simple items you already have around the house. What dinosaur fun can you have?