Glitter is always a favorite activity with preschoolers because of the "bling" factor. Using Glitter is sparkly and pretty and oh my it can be messy, but it doesn't have to be a crazy mess. There are a number of options to create crafts with glitter effects without finding flecks of glitter in your hair or the carpet months later.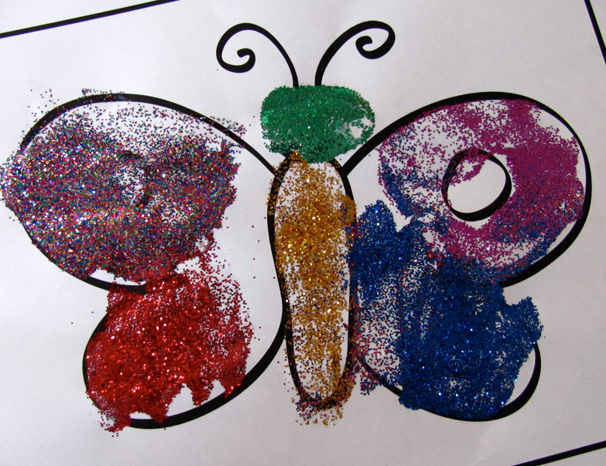 Using Glitter in Preschool Projects
The traditional glitter option is to apply glue either squeezing from a glue bottle or applying with a brush and then use little jars of glitter which are gently tapped to sprinkle on the paper. Now many glitter jars come with a sprinkle cap much like a standard food seasoning container, how this can still be a messy option.
Make your own glitter glue: A better way to deal with loose glitter is to create your own glitter glue. Simply mix some loose glitter into a small bowl of glue or Mod Podge and then apply by painting on the project.
Pre-made glitter glue: Another glitter option that provides less mess and more fun is the premade glitter glue. You can find a variety of colors and quantities at any craft store. Sometimes the bottles are hard for preschoolers to squeeze, so make sure to find something that is manageable for little hands. To use, simply squeeze the bottle where you want the glitter to appear and let dry. Additionally, the glitter glue and be applied to one area and spread out with a slightly damp paint brush, again painting to cover the desired area.
Glitter paper and glitter foam: If you are still looking for an option to add glitter sparkle to projects without the glue and pixie dust mess, try glitter paper or glitter craft foam sheets. These are sheets of paper or craft foam with a glitter coating that you can cut and glue where you'd like, they sometimes already have an adhesive backing as well so it's like a giant sticker you cut, peal and stick. The final result is just as nice as using traditional glitter yet with a completely different approach for use. The best part about using glitter paper is that the kids can practice their scissor cutting while enjoying the glitter.
Glitter stickers and glitter rub-ons: One final option to consider is glitter stickers. if you just want to have the option of adding a little glitter to a project without worrying about creating your own design, stickers are an excellent way to go.
Using glitter with preschoolers
Regardless of which activity type you pick, make sure to choose glitter supplies that are appropriate for preschool aged children. Washable and non-toxic products are always the best choice.
No matter which way you go, glitter is always a hit with the preschool crowd. They love the sparkle whether it's for a pretty glitter princess crown or a fabulous glitter race car. Glitter is a winning craft supply every time!