Inspired by Eric Carle's story, The very Hungry Caterpillar, here is a quick and fun craft project to make your own caterpillar.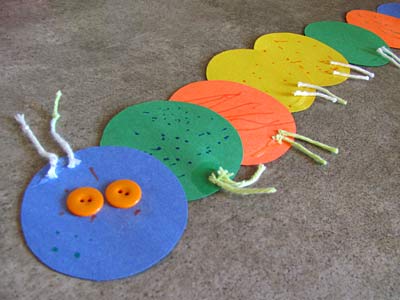 Make your own caterpillar craft, quick and simple:
You will need:
Paper
Scissors
Glue
Yarn
Buttons
Crayons or markers
How to make it:
Cut at least 6 circles of the same size
Color as desired
Glue together edge to edge, overlaping as you go
Cut 1″ pieces of yarn and glue on for the legs
Cut two more pieces of yarn to glue on for antennas
Glue buttons for eyes.
Extra fun: create a pattern using the caterpillar circles. Count the circles or match the colors. Talk about caterpillars and butterflies. Read the Book, The very Hungry Caterpillar.