Our newest toy in the house is multi-purpose and both my kids and I love it! We recently received a Trunki from Melissa and Doug to review, have you seen these neat ride-on suitcases for kids? It's a suitcase/storage box on wheels for preschool aged children. You can store stuff, decorate it, ride on, scoot on it, pull it and have a ton of fun playing on it , in it or with it. You can even decorate it with Trunki stickers so it's personalized all your own.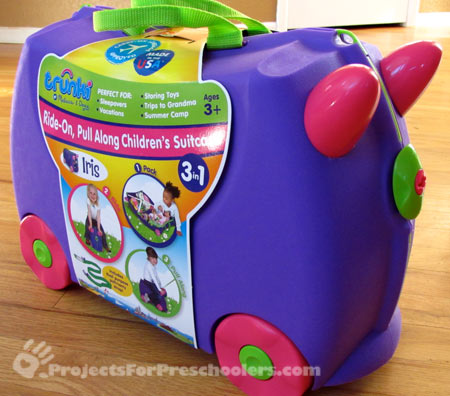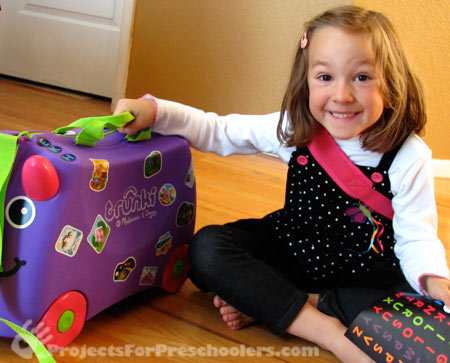 My preschooler tends to be the purple princess type, so we opted for the "Iris" Trunki. It's purple with pink wheels and pink horn/handles. The entire thing is made of a very sturdy plastic yet latches and handles are easy for my preschooler to handle and open herself. There's even a little plastic key that locks the side latches – pretty handy. There's also a shoulder strap (I think more for mom than kid) that doubles as a pull tether. It latches securely to a loop at the top of the case. My older son had a great time pulling his little sister using this strap.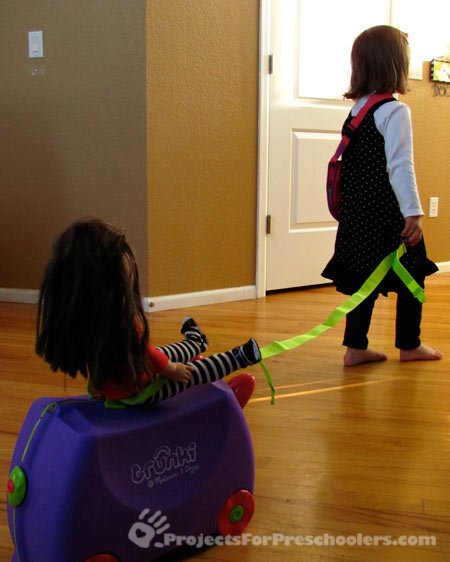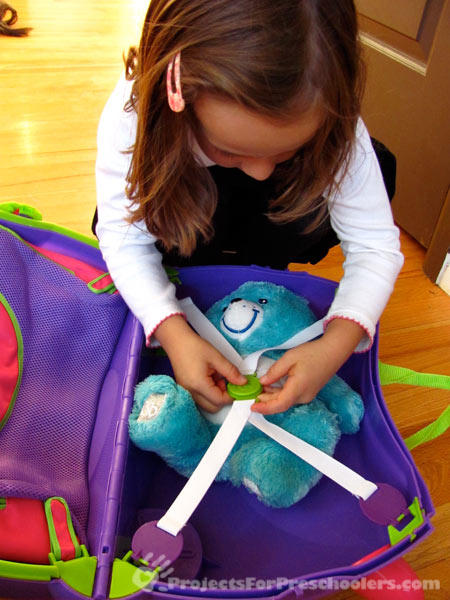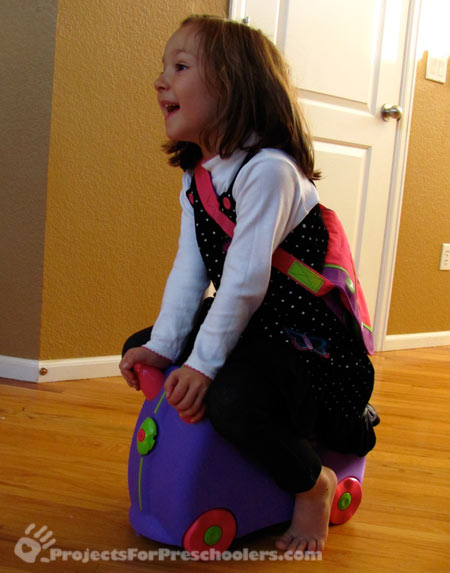 We received 3 sets of stickers with our Trunki and used just about every last one decorating each side. There are face pieces, eyes, mouths, etc. to give your Trunki a personality all it's own. There are fun destination travel stickers like the ones you'd put on a suitcase when adventuring around the globe. There are also alphabet stickers which we opted to use in random letter placement instead of spelling actual words.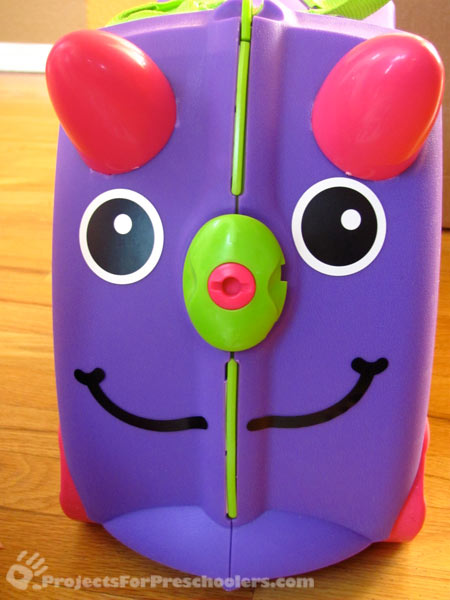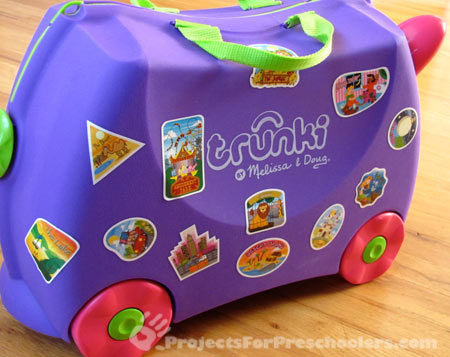 The Picture on the package of the Trunki shows a few dolls inside, so of course we had to try out the roominess. We have an American girl sized doll who fit fine by herself, if she were bent a little at the waist. The inside is not big enough to hold more than one 18″ doll and her clothes, however.
Here's a video from Melissa and Doug to see the Trunki in action:
Accessories:
There is a small shoulder bag that doubles as a "saddle bag" covering the riding seat of the closed Trunki. There's a cute horn built-in near the top of the bag. There's also a larger shoulder bag that has velcro straps to attach inside the Trunki as extra organizing space, very handy. Finally, there is a carrying case to put it all in. We didn't get our hands on the carrying case, but I don't know that we would use it.. how could you admire our fancy travel stickers if it's all in a case? I think the case would come in handy if you wanted to protect the Trunki from scratches while traveling or storing.
My preschooler is at the higher end of the growth chart and she was able to ride her Trunki with ease. Much taller and she might be too big, but she's about as tall as the average 5 year old. I think this toy would be perfect for kids ages 3-5.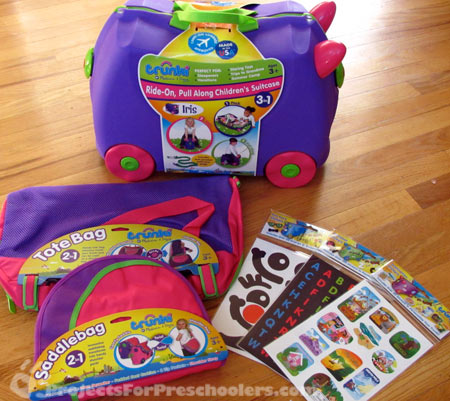 The Giveaway
I am giving away 1 trunki gift pack valued at $75.94 which includes:
1 Trunki in the color of your choice
1 Trunki saddlebag
1 Trunki tote
1 set of stickers
This offering has ended.
BIG Congrats to the winner: Daria @mominmanagement
Thank you to all the entrants!
To be eligible to win you must:
Extra entries: (please leave a separate comment for each)
Subscribe to Projects for Preschoolers newsletter and leave a comment below. (email will be verified, one entry)
Post on Twitter about the contest and leave a comment below with your Tweet. Using: @funforpreschool and #pfpgiveaway (one entry).
Giveaway will close Tuesday, November 15, 2011 at 9pm Eastern time. One winner will be selected at random using "And the Winner Is". Winner will be notified via e-mail and have 24 hours to respond with a US Mailing address or a new winner will be selected. Melissa and Doug with then ship the item directly to the winner.
Don't Forget – You can follow Projects for Preschoolers on Facebook to hear about all the great projects we share, more giveaways and who the winner of this Trunki set is.
Disclaimer: I was provided with product from Melissa and Doug for review. All opinions are 100% mine.