Friday, June 17th Mr. Popper's Penguins opened in theaters around the country. I saw our local movie theater had a 10am showing, so we piled in the car and headed out to watch this new penguin film. Growing up, I never read the book the movie is based on, but I had heard enough about it to know the movie was going to be a bit different. The storyline is a business man find himself taking care of a pile of penguins with all sorts of fun and laughs result.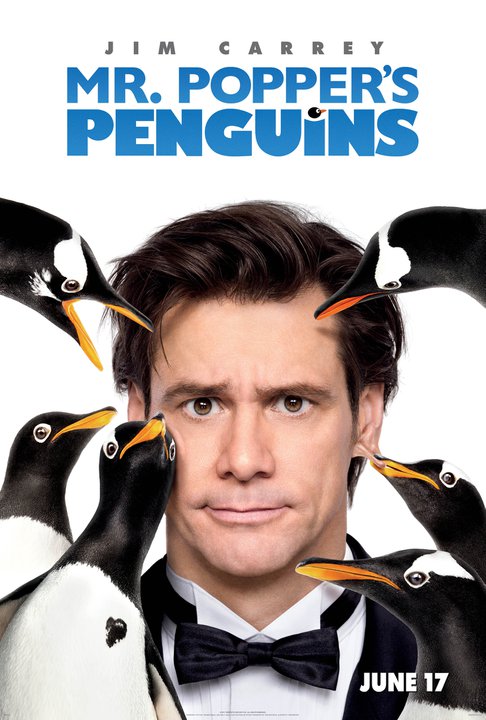 My kids really enjoyed the movie, especially my preschooler. She adored the penguins and really had a good time watching all the silly antics and funny penguin action. The movie wasn't nearly as full of outrageous laughter as I had expected. Familiar with Jim Carrey's joking personality in more grown-up themes, I wasn't real sure what to expect from him in a family movie. Surprisingly, he was tame and kid friendly.
My favorite aspect of this entire film was, of course, the penguins. Not only are they full of personality and cute to watch, the graphics were amazing. The penguins looked real. Their movements and mannerisms seemed realistic and they looked fantastic. I was surprised by the realism. If I gave a grade based entirely on the graphics and computer animation, I'd give Mr. Popper's Penguins a 10, hands down!
This is a great movie for the entire family. There's just enough action to keep the little ones entertained yet a story line that will keep the older kids involved. For adults, it's a cute movie to be enjoyed with kids, but there isn't much in the way of deep thought or interesting conversation. Some of the scenes may seem a bit choppy to older audiences, but the kids won't mind much. There's plenty of penguin fun throughout the entire film.
Fun trivia for Mr. Popper's Penguins:
What type of penguin are the penguins in the movie?
How many kids does Mr. Popper Have?
What Museum were the penguin in when they were playing like a water slide?
How many baby penguin chicks hatch in the movie?
Why does the zoo keeper want to keep the penguins?
Check out the other activities and More fun with Penguins.