Craft foam stickers are a great supply to have on hand for those unexpected moments of creativity. This is one of those items I watch for no matter where we go shopping. There are so many different shapes, sizes and colors and sometimes you can find them at fantastic sale prices. I picked up a pile of different packages at the Dollar store a while back, put the stickers into plastic bins for easy access and we've had fun creating for weeks now.
For this preschool art project, we pulled out the paper, crayons, craft foam stickers and let the imagination take over. We talked about the colors and the shapes and watched what happened as we added more stickers to the page. This is also a good activity for fine motor skills because it requires some pinching skills to get the backing paper off the stickers. Watch for the tiny stickers, they can be really tough for some kids to work the paper off.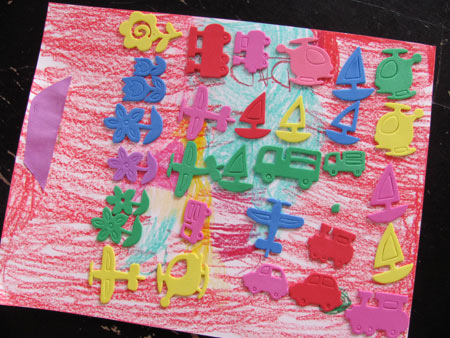 There really is no limit to the fun that can be had with craft foam stickers. You don't even have to use them stuck to anything. We often grab a handful and play sorting and matching games.
More ideas of preschool projects you can make with craft foam stickers:
Fun cards for all types of occasions
Signs and banners
Container labels
Gift tags
Party decor
Happy creating!