With a paper plate and some craft supplies, you and your preschooler can make some very festive masks for Mardi Gras. We used some supplies from our stash including glitter paint, gems, some paper flowers and even some gold buttons. You could use whatever supplies you have on hand. Markers or crayons, ribbon, tissue paper, whatever you'd like. Have fun with it!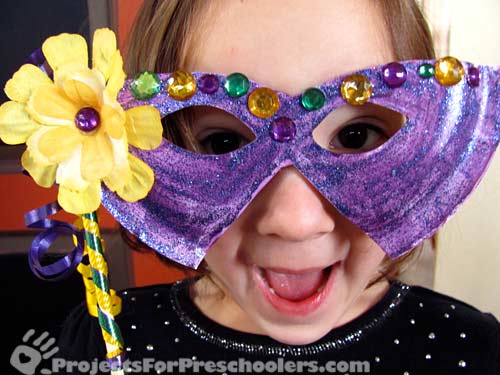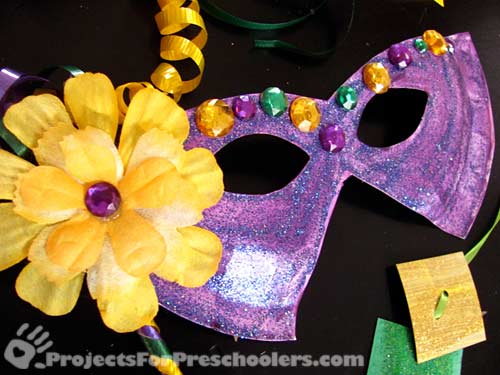 I used a chopstick as the mask handle/stick, but a thick straw or wood dowel would work nicely too. Here's how we made this mask.
Materials to make a Mardi Gras mask:
Small paper plate
Purple craft paint (we mixed red and blue)
Glitter glue/paint (we used DecoArt Twinkles)
Gems
Tissue, feathers, paper flowers, other embellishments
Gift wrap curly ribbon
Stick for handle
Glue (we used craft glue and hot glue)
Scissors
Paint brushes
How to make a Mardi Gras Mask:
Cut the paper plate in half and then cut to the desired shape and eye holes.
Paint with craft paint and let dry. Paint with glitter, let dry.
Glue on gems and other embellishments.
Wrap stick with ribbon. Glue to mask to hold in place. I use hot glue to secure the handle to the mask, craft glue would work fine, you just need to make sure it dries thoroughly before playing with the mask.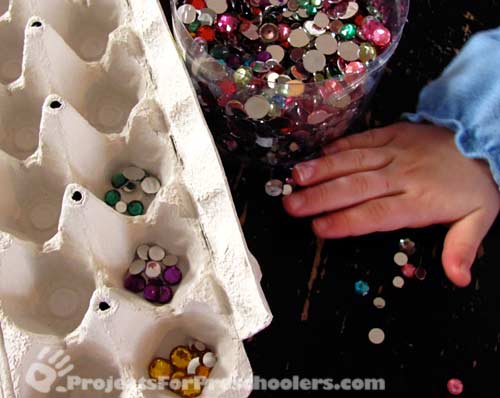 Part of our mask making included some color matching and sorting fun. Using an egg carton as our sorting container, my preschool went through our big tub of craft gems and found the green, gold and purple gems we needed for this project.
You can create all kinds of masks by mixing and matching the supplies you use. We made a second mask that had the paper plate flipped upside down, painted it green and added buttons and tissue along with the gems to decorate it.