Guest post by Kathy McHenry
You don't have to spend a lot of money when you host a preschool party. You can stay within a budget and still create a wonderful time for everyone. Let's have a party!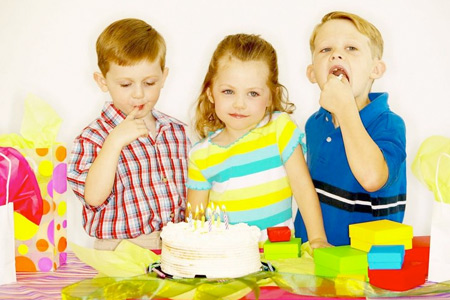 What's the Occasion? Do you have or want a theme? If there is a special occasion, then you already have the theme. If you just want to bring friends and family together and don't want a theme that's great. If you decide to use a theme, be sure to include it throughout all of your planning.
What's Your Budget? Be specific about the amount you can spend on invitations, decorations, paper products, food, and drinks.
Create Your "To Do" List. Include everything that you have to do. The list includes sending out invitations, menu planning, shopping, cooking, cleaning, set up and clean up. Also include any help you have for the part; what are their roles?
Create a timeline of what needs to be done on the day of your party…from setup to clean up and everything in between.
If you want to keep food costs low, consider a time of the day. How about mid afternoon: you will only need to provide snacks. Your guests will enjoy an appetizer or dessert party. A breakfast party is unusual and affordable; have a waffle station, an omelet station, meats and potatoes in warmers.
Make the food yourself instead of hiring a caterer. Or have everyone bring something, you can assign a dish or let it be a surprise.
Create your own invitations; make them a post card to save on postage. Use email or a service like www.evite.com instead of sending regular mail.
Leverage your resources. Do you have a friend with a good music collection? Anybody you know love to bake and could bring desserts? Who could stay late and help with clean up?
Serve a family style meal such as lasagna or spaghetti. Both are very affordable and go well with a simple salad and some bread.
With careful planning and organization, you can stay within your budget yet create a wonderful preschool party for everyone to enjoy. Most of all have fun!
About the Author
Kathy McHenry, founder and CEO of www.MyOnlineMeals.com has helped thousands of people put a real dinner on the table. Go to www.MyOnlineMeals.com to receive a free weekly recipe list and shopping list; and to be added to her monthly newsletter. You can reach Kathy by email at Kathy@myonlinemeals.com .