Make a popsicle stick flag to celebrate our American heritage and freedom that the red, white and blue represent. You can add your own embellishments such as glitter paint, stickers and gems or create a simple American flag using just paint and the popsicle sticks. This makes a great activity to have ready for your family BBQ, just put the supplies out on a table and let the kids have fun making their own U.S.A. flag.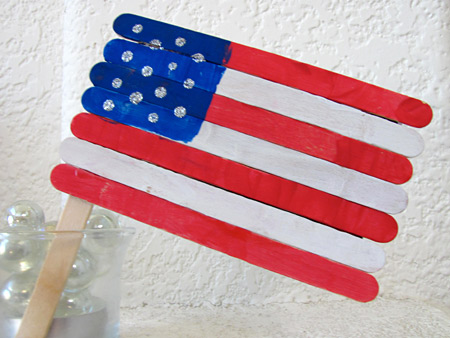 Supplies you'll need:
Popsicle Sticks
Red, White and Blue paint
Paintbrush
Glitter Glue
Glue
Paper
How to make a popsicle stick American flag:
Paint 4 sticks red, paint 3 white
Turn the sticks over to show backside facing up and alternate red, white, red, etc.
Apply glue and then place a piece of paper cut to size on the glue. Let dry.
Turn over and paint a blue square in the upper right.
Apply glitter glue dots, let dry.
Glue a popsicle stick as a flag pole (optional).
You can use this popsicle stick flag as decor for your July 4th family gatherings, include in a table center piece, string on yarn and hang as banners or decorate a cake. Your preschooler will have a great time painting and gluing while you discuss American heritage. Have fun and God Bless America!