I found a package of small rubber erasers in the Target $1 bids and decided they would make great rubber stamps. The rubber erasers are made of is perfect for stamping. You can use either stamp pads, paint or washable markers so these stamps can be used in a variety of projects. The package contained at least 30 stamps, so you could make this as a classroom project and everyone would have their own stamp to use.
I used gumball machine plastic containers as the "handle" for our stamps, but using a plastic lid would work really well too.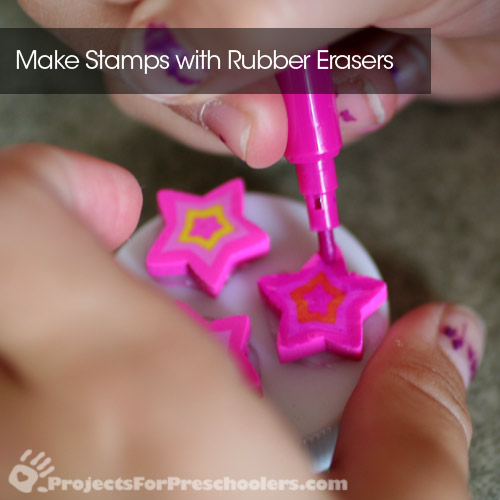 Materials you need to make your own rubber eraser stamp
Rubber erasers in different shapes
Some kind of a handle – plastic drink bottle lid works well
Glue – sturdy all purple glue – we used e6000
How to make a rubber eraser stamp
Glue erasers to the top of the plastic lid.
Let dry.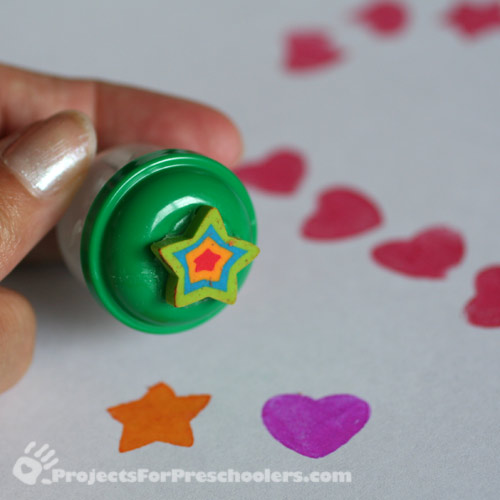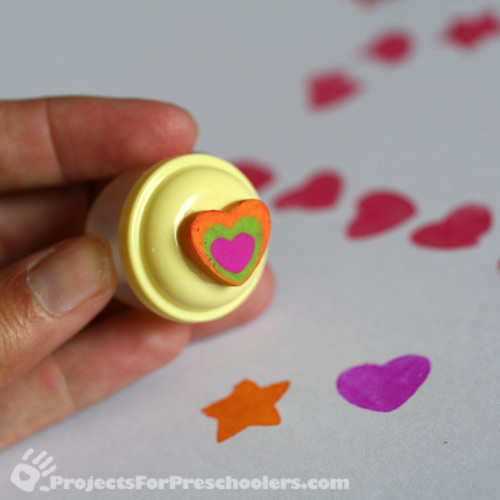 We colored our eraser stamps with washable markers and then stamped on to paper. We also made a stamp using 3 erasers on one lid so we had 3 hearts on a single "stamp" design. This is great fine motor practice with the coloring and grasping and stamping. One thing I did notice, not all stamps are completely flat so we had to push a little extra to make a good stamp print.