I've been writing about projects for preschoolers with my own preschooler only to come to this day where my own preschooler is moving on to Kindergarten. It happens to us all. We've played and learned and grown all this time in preschool to prepare for the day we send our babies off to kindergarten and the day is finally here. Rule #1, we can no longer call our babies "my baby" (well, we can, if they don't hear us). Instead we now have a big girl or boy who is ready to take on the world and start on a brand new journey. If you are sending your child to school, rather than home schooling, the transition can be huge. Some kids adapt well and are eager to jump into the new adventure while others are more nervous or shy and even worried about being in a new situation. talking with your soon to be kindergartener about what's ahead is a great place to start.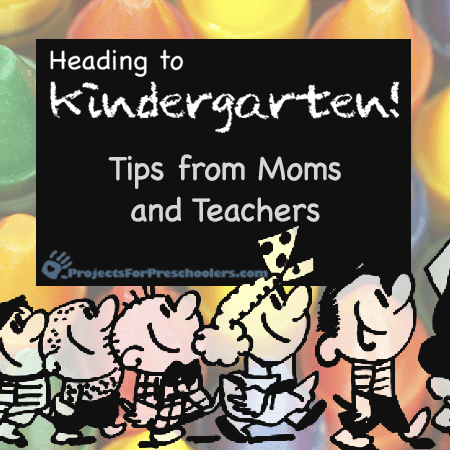 I've asked a whole bunch of friends and colleagues what advice they would give for kids starting out in kindergarten. Some gave ideas to prepare for the transition while others offered suggestions to get your own mind ready. They've shared their insight and I couldn't be more grateful.
Advice to help along the way as your child heads to kindergarten:
This not necessarily a checklist of skills or knowledge to make sure your child is ready for kindergarten. There are already plenty of articles talking about the thing your child should be able to do when it come to being ready for Kindergarten. Instead, this article offers advice for things you can do to make the experience a positive one and the transition emotionally easier for you and your child.
Put their name on everything
Get a bigger backpack
Make sure kids know how to read exit, boys, girls, open close etc.
Teach kids how to open snack packages, tie shoes and  zip zippers – same for applesauce cups and milk cartons if full day w/ lunch
Talk about going to school
Make sure to introduce them to their new teacher, allow them to explore their classroom and show them where they will be going throughout the day.
Let them help pick out their snacks or lunch items
Leave little love note reminders in their lunch
Teach your child their phone number
Pack an extra set of clothes in their backpack – accidents happen
Put contact info inside their backpack – safety pinned to the inside pocket
Make the first day of school a special day
Work up to it, building excitement about it
If at all possible, be there for the first day of school, before and after. Walk with them to school, ask how the day was and be involved from start to finish.
We like solid color backpacks from LLBean.  They are nearly indestructable and come with a lifetime guarantee if something does wear out or break.  We add decorations with keychains, and can swap them out as their interests change. – Carla Schauer CarlaSchauerDesigns.com

When my son started Kindergarten, we walked through the open house the night before.  I pointed out things that I thought would help calm his fears.  We went to the boys bathroom, the water fountain, the emergency exit, the nurse and the cafeteria.  Familiarizing him with the new surroundings help him relax and made  for an easy transition to all day Kinder garten. – Niki Meiners 365daysofCrafts.com 
How you react is going to directly affect your child on that first day. Try to save the tears for when they walk in the door. Give the teacher some time. I expected too much too soon, I think. It takes the a bit to get to know all of those little personalities. Take some time after school to talk to your child. We use our walk home to talk about what happened that day at school, but I don't pressure too much. Usually during dinner my son will remember something else he wants to tell me. Routine routine routine. Backpack is packed and clothes are picked out the night before so it makes the morning easier. Remember that with the smaller kids, little things can change their WHOLE day. I learned this today when we got to school a bit late and my son wasn't first in line like he was the first two days. It put him in a bit of a funk and I know he didn't start his day well. Write your child a letter as soon as you drop them off at school. The PTCO at my son's school did this and I LOVE the letter. A great keepsake. And that is about everything that I am putting in my article on the same topic so use as you wish, lol. – Vicki Little aurora.macaronikid.com
Even if you don't think you're going to cry, bring tissues just in case – watching that little person walk away all grown up (yes even if they are just 5) is almost guaranteed to make you tear up.
Be aware of your child's age relative to the other kids in the class. For example, my son was the youngest child in the class, and therefore was slower at certain things than the oldest kids in the class (who could be 9 months other than him or so). He didn't start really reading until the middle of the year, and he was slower and less accurate at cutting things out with scissors, as well as sitting still and paying attention. Because I was aware that he was developmentally younger than others in his class, I was able to understand why he didn't "keep up" with some of the other kids. When you're five, nine months of development makes a HUGE difference. Also, make sure the teacher is aware if your child is on the younger end of his class. – Heather dollarstoremom.com
Remember to not only thank your child's teacher/s but also teach your child to say thank you to their teachers. When you make or buy gifts for the teachers, make sure your child is a part of the process as well as a part of the delivery.
A School bus ride can be very intimidating and overwhelming to kindergarten and first grade students. I would definitely meet the school bus driver make sure there are policies in place to accommodate little ones or maybe avoid the bus ride all together if possible. Keeping things positive that first year can really set the tone for how your child will feel about school moving forward.  Stickers, hugs and kisses etc. in packed in a lunch will go a long way at this age. And try to go in once a week for an hour or so … You can help the teacher, Practice reading with the students, or even just be an extra hand. – Kit Bennett KidsParties123.com
Have lunch with them. If your child is in full day kindergarten, stop by from time to time and share lunch time with them.
Volunteer. Whether in the classroom or on the playground, make the time to volunteer once in a while. You're child will be excited to show you off and learn from your example.
Make it as fun and exciting as possible. Buy a new backpack. Shop for school supplies. Play pretend school. Read books about school. Be excited so your child gets excited too. And don't forget that it will take a few months for your child to get used to the routine and energy. Don't overschedule. Get used to your schedule first. – Melissa Taylor Imaginationsoup.net
Some kids are so ready for Kindergarten they are more independent than we are ready for. Just remember, it's ok and you can be involved by asking how you can help and letting them know you're here when they need you.
They told us we can bring in the supplies to the meet the teacher night. Nothing is labelled for them at our school. We'll find out who is in his class, who his teacher is, where the class is located. They get assigned a letter to line up on, so we'll find out his letter, and go scope it out on the playground. My kid is pretty excited about starting Kindergarten. He's not full day yet, so his routine isn't changing too much. – Melissa Armstrong ageofmelissius.com
As a former kindergarten teacher, I can tell you that parents do not need to be worried about several things. Children do not need to be reading to enter kinder – or even know all the letters. It may take six weeks for a child to adjust to school. A love of learning is very helpful to model as well as a love of books. All of the kinder teachers I ever met cared about every student and worked very hard. You are leaving your child in capable hands – but any volunteering is always welcome. ~ Susan Case Kindergarten & Preschool for Parents & Teachers
One final note about preschoolers, kindergarten and ProjectsforPreschoolers.com
Like I mentioned in the beginning, my own kiddo is now moving on to kindergarten. I won't have her home with me every day to share ideas and explore activities. The last 6 months I've been wondering what this means for my sharing here. Now, if you're also wondering, let me reassure you, Don't worry, I'm not going anywhere. I'm just going to have to change how I share project ideas… a tiny bit. Despite my own kids venturing on to other bigger adventures outside of preschool, I am still passionate about sharing preschool projects and inspiring creativity. We'll still be here, sharing fun ideas. If your kids are also outgrowing the preschool projects, join me at my other site,
100 Directions where I share creative ideas for all ages
, more kids fun to come!

More articles about getting ready for Kindergarten:

Do you have advice or stories you'd like to share about sending your kids to kindergarten?