My preschooler loves to watch the birds when they land outside the window, so to help bring the birds close more often we like to give them a little birdseed. We used to put the seed in a little bowl, the birds loved it, but it only works on dry sunny days.As soon as it rains or gets too windy, the seed is soggy or blows away. We also wanted to be able to put food out without having to refill it every day. So, we made a simple bird feeder and now we can watch the birds and their food stays nice and dry.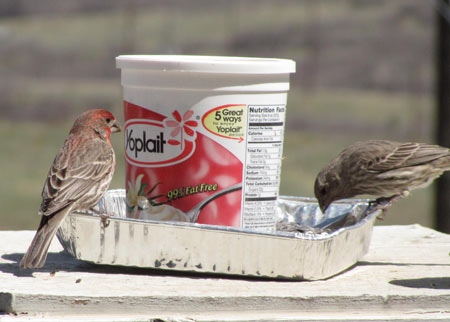 Supplies you need:
Large plastic container with tight fitting lid
Disposable aluminum tray
Sharp scissors
Sturdy string or cord
Birdseed
How to make a simply birdfeeder
Please note: Adults need to cut this project, preschoolers can help by filling the container with seed and decorating the container if you'd like.
Cut a small (1″x1″) hole on opposites sides at the lower end of the plastic container. These will allow the seed to come out of the container and into the try.
Make two small holes in the center bottom of the plastic container. Make 2 matching holes in the center bottom of the aluminum tray.
Using the cord, tie the tray to the plastic container.
Fill the plastic container with seed. Attach the lid.
Your bird feeder is ready to place. It may take up to 3 or 4 days before the birds discover your feeder. Be patient, and enjoy the show!
If you'd like to decorate your birdfeeder, try Krylon's plastic paint. Make sure to let dry and air out for at least 3 days before filling with seed to allow the paint fumes to be eliminated.