Threading activities are a great project for preschoolers for a number of reasons. It's wonderful practice for hand-eye coordination and fine motor skills. The kids love threading and threading activities can usually be quick and easy projects that you can bring you with you just about anywhere.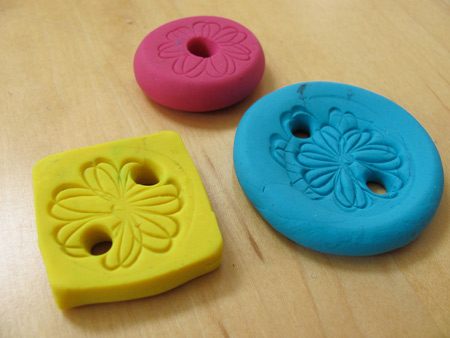 Here we've made our own threading beads and buttons using polymer clay. My daughter and I made different shaped clay balls and then I flattened them, used stamps to decorate and added holes about the size of a pencil. These are large shapes so they can be easily handled and if dropped, easily found. You can also make beads out of home made play dough. The kids can then use with a shoelace or yarn to thread together.
You can make your own beads and buttons out of a variety of materials. Punch holes in cardboard or recycled water bottle lids and let your preschooler help you make these items as another fun project. If you prefer, you can also purchase larger plastic beads in a whole array of shapes and colors along with different threading strings at your local craft store or hobby shop.