Make these cute and easy Halloween spiders with your preschooler using a thumb and a little paint… super fun! We used different colored construction paper and different colors of tempera paint to make all kinds of spiders. Because this is tiny art, it's fun to make a whole pile of thumbprint spiders and use them to decorate all over the house. Here's how…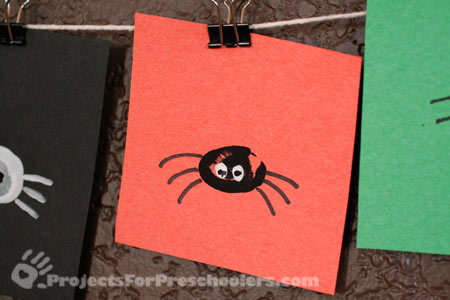 Materials you need:
Tempera paint in black, green and white
Construction paper in black, green and orange
Scissors
Small paintbrush
Black marker (optional)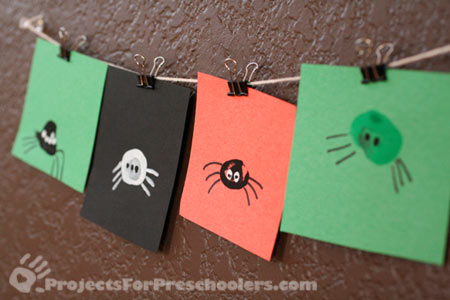 How to make thumbprint spiders:
Cut the construction paper into squares approximately 3″x 3″.
Put a small amount of paint on a paint board, you can use a paper plate or another piece of paper. Make sure each color is separate so you don't accidentally mix colors.
Place your thumb into the paint and then press on to one of your square pieces of paper. Let dry.
Using the small paint brush, make eyes and legs on the spider with whatever colors you'd like. You can use a marker if you prefer.
Hang your spiders around the house and enjoy the creepy fun!