I love handprint crafts so when I was trying to come up with something fun to do that wasn't a jack-o-lantern or a ghost, I thought a bat would be so cute! So here we have a super fun handprint bat. You can make them any color you like, we chose purple because I was able to convince my preschooler that not everything has to be pink. But your bats could be black on colors paper or green or even white… whatever you'd like. Make sure to cover your work area to prevent any handprints from ending up on your table!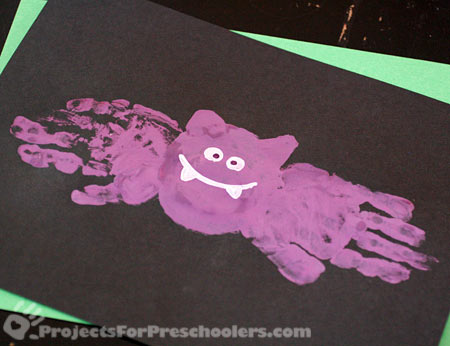 We did not have purple paint, so we used this project as an opportunity to talk about mixing colors to make your own color. We used red and blue paint and mixed them together. We then added a little white to transform the dark purple to a lighter purple that would show up better on our black paper.
Materials you need:
Tempera paint in purple, white and black
Construction paper in black
Small paint brush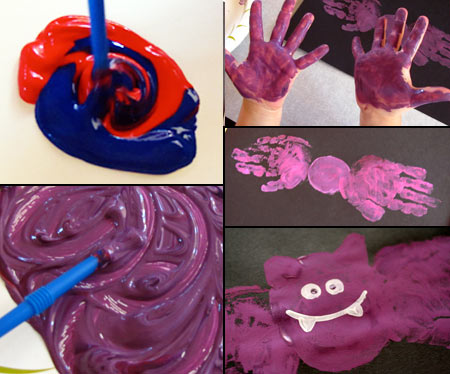 How to make your own cute handprint bat:
Using the paint brush, paint a circle in the center of your paper. Start with a circle that is approximately 3″ wide. This will be the bat's body.
Next paint the inside of your preschooler's hand. You could hand them place their hand in the paint instead, depending on how much paint you would like to use.
Place the painted side of the hand, with fingers closed, on the paper once on each of the side of the circle. You can then go back and make your  circle bigger if you'd like. Let paint dry.
Using the paint brush, paint ears in purple, white eyes and the mouth with fangs. Then paint black dots in the white eyes.
That's it! Super cute and friendly handprint bat you can cut out and hang to decorate for Halloween. Or, you could hang up the paper as is for a fun Halloween piece of art.
Note about making handprint art: it's recommended that you practice the hand shape before painting and making hand prints. Practice making a closed flat hand verses a wide open hand. This will help you make the hand shape your preschooler wants when they make their hand print bats.