We love projects using tissue paper! It's fun to scrunch the tissue and make pictures using all the different colors, so when thinking of ideas for Earth day, a tissue tree seemed appropriate. You only need a few supplies and the picture that results is entirely up to your imagination.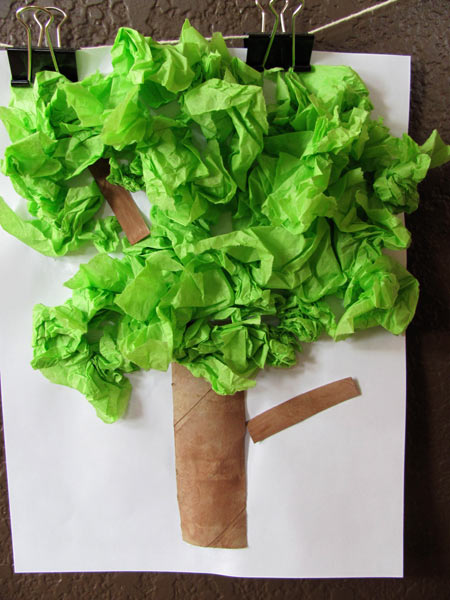 Supplies you need:
Tissue paper
Cardboard tube
Glue
Single piece of paper as background
How to make a tissue tree:
Make tree trunk from a cardboard tube, cut in half vertically. We painted our trunk using watercolors, but you can leave the cardboard brown as is if you like.
Tear tissue paper into small (2″ – 4″) pieces and scrunch up into loose balls.
Glue trunk in place.
Apply glue all over paper where "leaves" will be.
One by one, place tissue on glue and let dry.
For added interest, include branches, flowers or even apples to your tree.
Tips: If you would like to make this project using more recycled material, re-purpose gift wrap tissue from gifts your preschooler has received.
Add extras like little paper flowers, apples or berries. You can even make a cute little birdie to place in the branches.
This would make a fantastic Earth Day project for preschoolers.