Sometimes creating art is just about using a material or two and create whatever comes to mind. Today we have a toothpick art collage using just toothpicks and imagination. You can present this project with a theme in mind or use it as free-for-all creative time. Add in extra materials, recycled magazines, popsicle sticks or different colors of paper to create different toothpick art pieces. This is also a great project to practice a little bit with fine motor skills.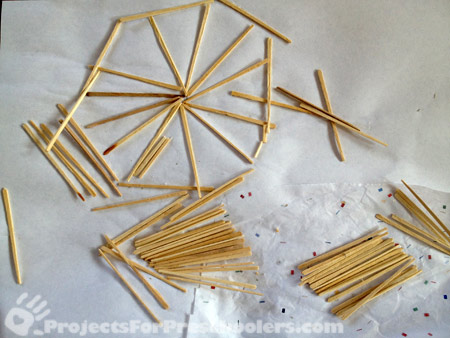 Materials you need:
Toothpicks (flat or round although flat are sometimes easier to work with)
Glue (liquid works better than sticks)
Paper
How to make your own toothpick art collage:
Apply glue to paper
Place toothpicks on the glue where desired
Let dry
You can make your own as an example or simply provide the supplies and demonstrate how to use them. If you make your own toothpick art, I'd love to hear about it! Share your creative ideas and suggestions for everyone to learn from.