March is National Craft month, so what better time to encourage creativity and imagination than today? Preschool crafts are a fun learning opportunity and often times a chance to make a memory. There are craft projects I do with my own kids now that brings back memories of creative fun when I was a kid. Classic crafts we all grew up with combined with new ideas and different materials are a great way to spend some extra time with your preschooler while encouraging their own confidence and exploration with their own ideas.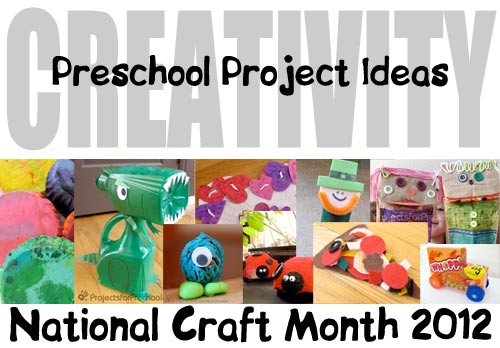 Start with crafting fun you both enjoy. Whether you get out the markers, tape and scissors and make paper airplanes with fancy wings or pull out the paint and a pile of old newspaper to make a fancy new decor piece for the playroom… crafting is about having fun and trying new things. There is no right nor wrong, just a fun time creating something new.
Every day this month we'll be sharing ideas to inspire your crafting fun.
Newest Crafts for Preschoolers
have_posts()) : $my_query->the_post();
?>
";} ?>
If you need inspiration, read more about crafts for preschoolers check out the Preschool Crafts  section for ideas. Follow the instructions for a new project idea or get ideas to make your own amazing creation. You can also check out the different collections of ideas on my Pinterest boards.
Share your crafty creations
If you have a craft you'd like to share, you can either link up below or submit ideas that I will feature on the site. Read more about submitting your own craft project ideas.
What are you and your preschooler going to craft today?

Link up your preschool crafts
Share your favorite preschool craft ideas. Let's inspire some creativity together!