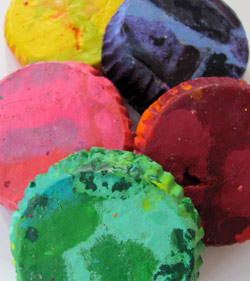 If your crayon box looks anything like mine, you might be listening to the kids beg for new crayons on a regular basis. They aren't shiny nor new, so for some reason they just aren't fun anymore. Brighten up the coloring view by making your own fun new crayons – recycling the old used crayons your kids don't want to use. You'll have fun new crayons in 5 easy steps to making your own crayons.
Note: This project requires the use of an oven and baking pans (not to be reused for food)

You will need:
old crayons
muffin tin
muffin cups (only if using a non-silcon muffin pan)
oven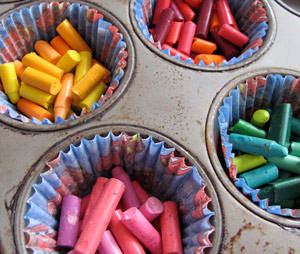 How to make it:
remove any paper from the exsisting crayons
break into smaller pieces and place in muffin tin
bake at 200 degrees until melted (approx 20-30 minutes)
let cool thoroughly
have new coloring fun
---
---
---
Comments - I'd love to hear what YOU think!