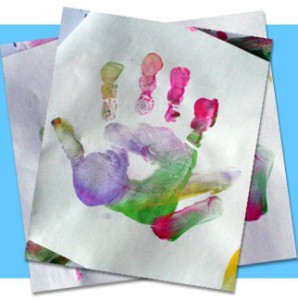 Finger painting is a fantastic activity any time of the year. You can make your own finger paints or use a store bought variety. Finger painting encourages youngsters to use their creativity and their hands together while exploring colors and textures. You can also use finger painting as part of a gift project for someone special. Everyone loves receiving cards or gifts with their favorite preschooler's handprint.
You will need:
finger paint
paper plate
paint shirt
paper
paper towels
How to make it:
How to do it:
Pour a little of each paint color on the paper plate. This helps preserve some paint for later while providing easy access to the paints for your preschooler
Dip fingers (or entire palm) in the paint and apply to the paper. Although you can purpose special finger painting paper, any kind of paper will do. Finger painting paper has a gloss coating which makes it more slick and a little easier to smear paint across.
Allow children to explore color mixing and painting with different parts of their hand.
Hang finished paintings to dry.
Tip: provide your preschooler with a paper or fabric towel to wipe their hands as needed. Some children prefer to not have sticky hands for very long, so giving them easy access to wipe off paint from time to time can encourage a more positive play time.
This project was shared with the Play Academy.