Alien buddies is an interactive game by Artgig Apps that your preschooler can play on either iPad or iPhone. It has adorable alien creature characters and tons of learning opportunities. The game includes 4 different types of activities, matching, puzzles, dot-to-dot and stickers. Each activity has multiple options as well. You can choose different levels of play depending on the activity. All games have audio instructions so younger non-reading kids can play hear instructions for the game.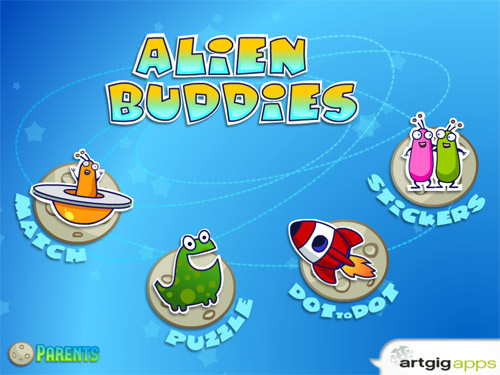 There are 4 different matching game options and 2 levels per option; colors, shapes, letters and numbers. Each game includes a basic level where your child can match the image on an alien with the image on the spaceship. "Listen" mode is a bit more advanced. Your child listens to the name of the image on the spaceship and matches the alien with that same image on it's belly.
There are 8 different puzzle pictures to choose from, each featuring a different funny alien. You can adjust the difficulty of each puzzle by choosing between 4, 6 or 8 puzzle pieces. The puzzles are a simple drag and drop movement, however for some kids, turning the pieces into place is a bit challenging. As your child works on a puzzle, funny little comments are made such as "where are my legs" or "could you give me a hand?". This is a great fine motor/hand-eye activity.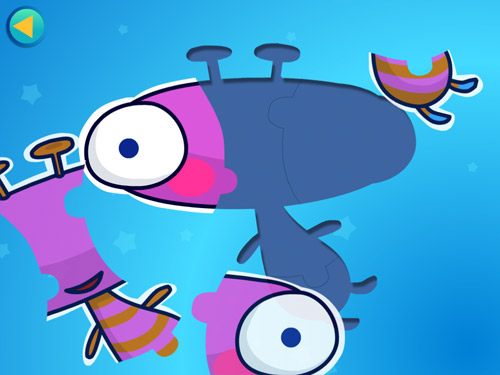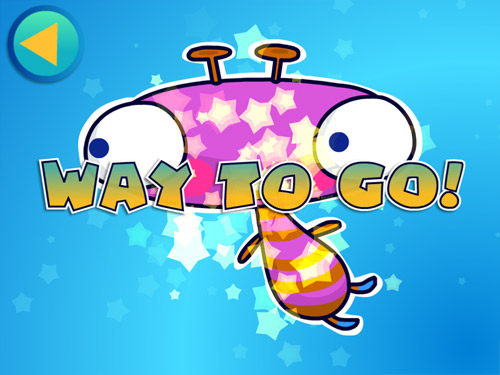 Dot-to-dots include 8 different pictures and 2 difficulty options. Your preschooler can choose between "please help" and "I can do it myself". The helping option lights up the number that is next in a different color. Both options say the numbers as they are connected. When the picture is complete the full color image is displayed and a happy, positive comment is made.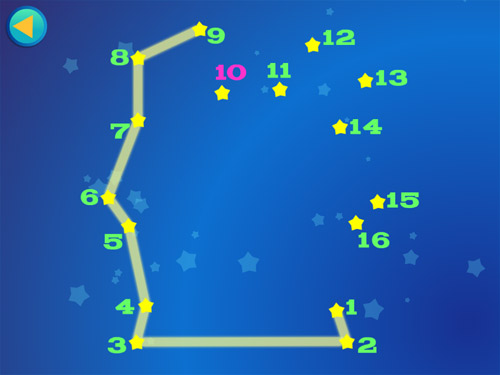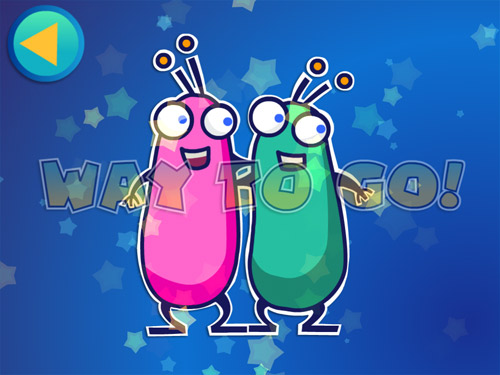 The "stickers" is free-play area where your preschooler can create pictures by moving images, aka "stickers" around the screen. Image sizes can be adjusted by standard pinching movements. The more games you play, the most stickers are available to use. There is also a camera option that when clicked will take a screen capture of your child's finished picture and save to your devices photo album.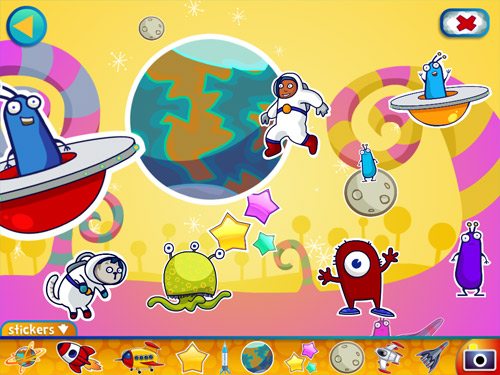 You'll find a handy "parents" section as well. It includes information about playing each game, options to turn sound on and off and the ability to reset the entire game. Check in this area to write a review or give feedback too.
We love Alien Buddies iPad game for preschoolers!
Alien Buddies is a great digital game for young preschoolers as well as older pre-k kids. There are enough challenges and activities to keep them interested, learning and having fun over and over. The graphics are adorable, the characters are engaging and fun to play with. They have expressions and reactions to events that are sure to bring some giggles. There are tons of positive comments to encourage your child to play again and again. The first time my nephew and I played Alien Buddies, he spent 30 minutes laughing at the boinging and "ut oh" noise the aliens made when he tried to drag the incorrect alien to the spaceship in matching games.
Buy Alien Buddies from Apple's App Store.
As of this writing, the cost for Alien Buddies is $1.99 and well worth the fee and works on both iPad and iPhone.
We've played this game on both the iPad and iPhone. It's intended for the iPad as there is more available playing room and for little hands and eyes, the games are easier to play. However, we've had plenty of fun playing Alien Buddies on the iPhone too.