Do your kids love those ready made lunch kits? Make your own stackable snacks with food right in your own Fridge. Here's how to make those fun lunches using cute flower cookie cutters.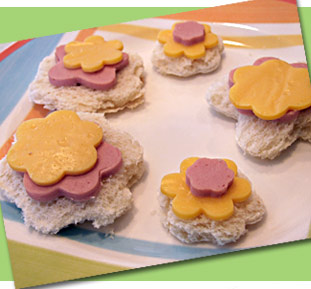 You need:
Sliced meat and or cheese
Bread slices
Cookie cutters
Make it:
Cut out individual shapes from the meat, cheese and bread using the cookie cutters
Eat up!
Tips:
Slightly twisting the cookie cutter after pushing into the food will help release the shape easier
Metal cutters work best, but make sure they have a smooth safety edge for little hands
If you use plastic cookie cutters, you might have to help press down to get a complete cut

Recommended supplies: