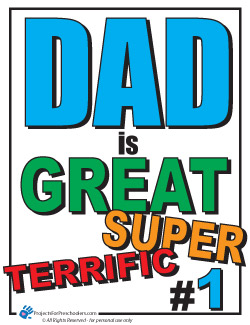 Here's a coloring page that is sure to make Dad smile. Dad is great, super, terrific and definitely number 1! The kids will have a great time coloring this fun page whether for Father's day or Dad's birthday or just because. Color it, decorate it with cut outs, paint or glitter or draw little pictures inside the letters. Hang it up for the world to see how great the Dad in your house is. He is sure to feel extra special when given a gift that has been colored with love… ahhh!
Download the Dad is Great coloring page
and give Dad a great big hug while you're at it!