I've seen a ton of articles lately about drawing in sand, practicing drawing letters in colored sand and sensory activities using sand. So, last week when I was at Michael's I saw jars of colored sand for about $3 so I had to pick up a jar. I grabbed the purple and home we went. This particular sand is designed for use in making sand art (filling decorative bottles with layers of colored sand), however it makes for a great preschool activity.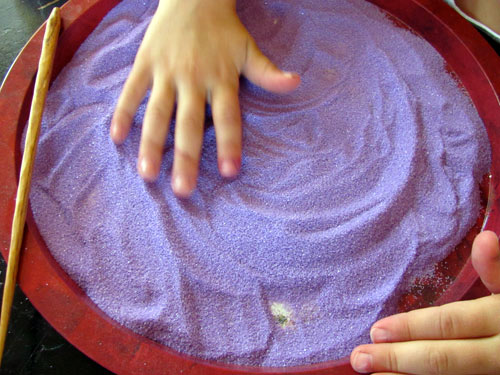 Get a serving tray, pour the sand in and play… that's it! You could use paper plates, however, make sure not to over-fill the plate, you really don't want this sand all over the floor just because there's too much to play with.
If you don't want to buy it, you can make your own colored sand pretty easily. The Artful Parent talks about making your own Zen tray using colored sand, a great activity that promotes thoughtful creativity. I also found an interesting tutorial for making colored salt using sidewalk chalk. We haven't tried this one yet, but it sounds like a fun 2-fer project… make colored salt for one project and then play in the salt (instead of sand) for another project, double the fun!
When you do get out the sand to draw and play with, try using other objects to play with too. We experimented with cookie cutters, chopsticks, paint brushes, etc. Encourage your preschooler to explore not only the texture but the results of using different surfaces together. Happy sand playing!