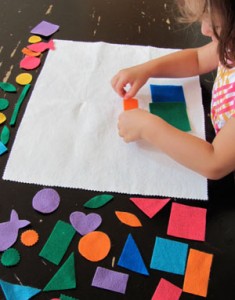 With a little felt and some imagination, you can create a felt board your preschooler will have fun playing with time and time again. Felt seems to magically stick to itself which makes for a great take-a-long activity.
Create some basic pieces to get started or make special themed sets for different topics or stories. Felt boards are also a great activity to pack up and take along on a trip to keep little hands busy and happy.
You need:
Craft felt in various colors (sheets of felt)
Fabric scissors
Make your felt play set:
Cut a large piece of felt, at least 12″x12″. This will be the play set "felt board" piece.
Cut out shapes from various colors of felt, these are the play pieces. Begin by creating standard shapes such as squares and circles in different colors and sizes as well as specialty shapes.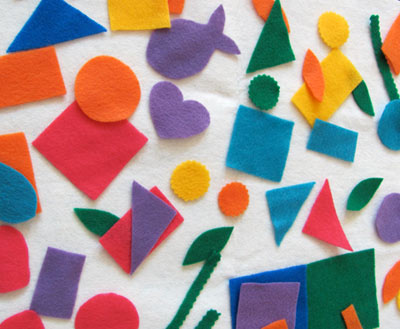 You child can get creative with their new felt play set, creating pictures with all the different shapes. You can also play matching games or work skills such as colors, counting or shape recognition.
Things you can do with your felt play set:
Play matching or sorting games
Create fun scenes and art
Tell stories
Create visuals for songs