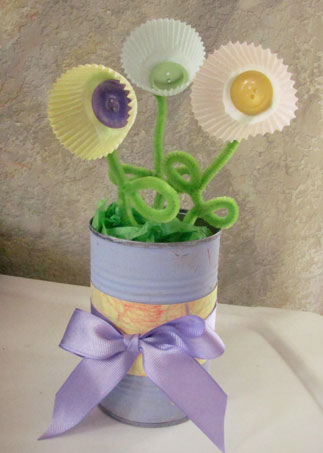 Make an adorable vase with cupcake liner flowers for Mother's day. This project allows for a lot of creativity, yet is easy to make for little hands. Your preschooler will love creating this special gift for Mom. This project is created in two parts, the vase and the flowers.
For the flower vase you will need:
empty soup sized can – washed and dried
acrylic craft paint
paper
1″ wide ribbon
glue
crayons
green tissue paper
Make it:
paint the soup can with and let dry
color the paper and cut a strip of paper approximately 2″ wide, and long enough to wrap around your can
wrap around the can and glue in place
wrap a ribbon around the can so it sits on top of the paper
scrunch up some tissue paper and put inside the can (this will hold the flowers in place)
set aside
For the flowers you will need:
pipe cleaners
mini muffin/cupcake liners
big buttons or plastic gems
glue
Make it:
twist a small loop in the middle of the pipe cleaner to form a leaf
make a second loop at the top of the pipe cleaner, this is where you will glue the flower
glue the cupcake liner, bottom facing down, onto the loop of the pipe cleaner
glue a large button or large plastic gem to the center of the cupcake liner
stick the flower "stems" into the tissue in the vase
Mom will love receiving this cute flower vase and she'll be happy to know not only was it hand made, but it's made from recycled pieces and parts as well. Feel free to decorate the cupcake liners with whatever other supplies you'd like. Try glitter, beads or even additional pieces of colored paper to fill the center of the flowers with loads of happy color.
Recommended Supplies