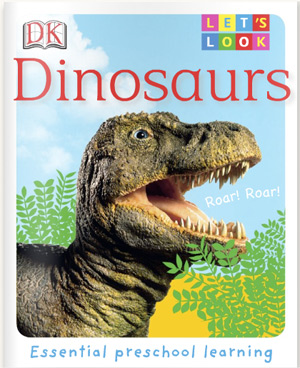 Here is a wonderful book all about dinosaurs and written just for preschoolers. Let's Look Dinosaurs is filled with bright, detailed pictures and written to engage. Some pages include "I spy" mini images to look for throughout the specific page while other areas ask questions or spotlight related items.
I found my kids asking their own questions and pointing out more details relating to the page we were reading. The words are written in large, clear text. However proper names and verbiage is used in regard to the dinosaur information. It's a nice combination of age appropriate and and subject correctness.
Lets Look Dinosaurs is 36 pages long and can be found for purchase through various retailers.
You can also read Lets Look: Dinosaurs right online at WeGiveBooks.org and help children in need receive books too.