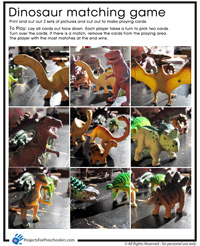 Here's a great print and go game for your preschooler who loves dinosaurs. The dinosaur match game is a memory game style card game you can take with you anywhere and play with as many players as you'd like. You need to print and cut out at least 2 sets of the playing cards. For more cards either print more of the dinosaur cards, or combine with another match game printout to vary the options of matches.
Download and print the Dinosaur Match Game
To play, simply place the cards face down, then take turns allowing one player at a time to turn over two cards looking for a match. When a match is found, the player removes the matching cards and takes another turn. The player with the most cards at the end of the game, wins.