Whether you want to paint or glue paper, these pumpkins are super cute and loads of fun for preschoolers to make. You can use different materials to decorate your cardboard box pumpkin including googly eyes, yarn, glitter and even lights. If you want to cut out holes, you could add lights inside. I'd suggest painting the inside of the box if you use to cut out a face like a carved pumpkin.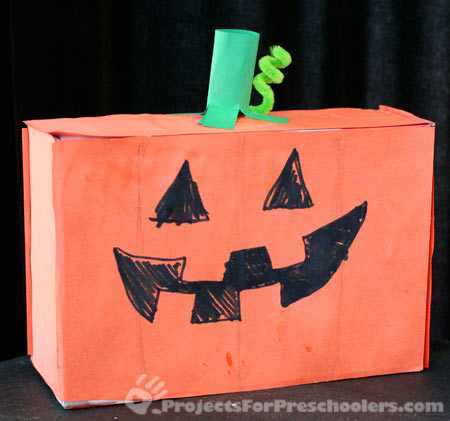 Materials you need:
A cardboard box. We used a graham cracker box.
Orange and green construction paper
Glue
Scissors
Black marker
How to make your own cardboard box Jack-o-Lantern:
Measure and cut orange paper for each side of your box. Glue paper in place.
Draw a face as you'd like it on one side of the box.
To make the stem, make a tube from green paper. make 1-2″ cuts up the bottom of the tube. Bend each cut piece 90 degrees. Glue on to top of Jack-o-Lantern. Add a cork screw chenille stem.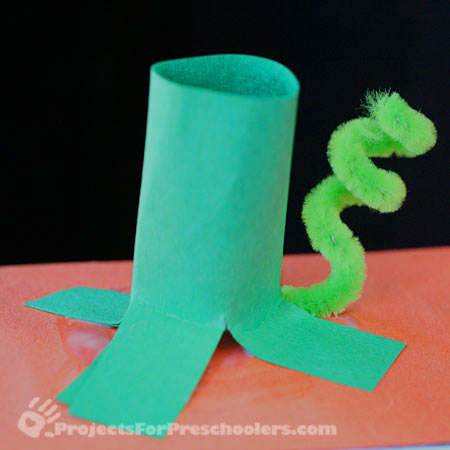 You could make a whole pumpkin patch full of cardboard box Jack-o-Lanterns in all different shapes and sizes with your preschooler. Consider making different faces on the front and back of the pumpkin so you can change the expression displayed from time to time. You could also paint on top of the construction paper for even more decorating fun.
This project was inspired by a cereal box apple at No Time for Flashcards.