Get outdoors, draw with chalk and practice painting. Sidewalk chalk is fun activity for preschoolers all by itself. The kids can draw bigger and get a little dirty. Add in some paint brushes and water and you have an art project without the worry of spilled paint. This activity is good for kids of all ages. Preschooler can especially enjoy sidewalk chalk painting because they can do everything themselves with little to no help from the grown-ups.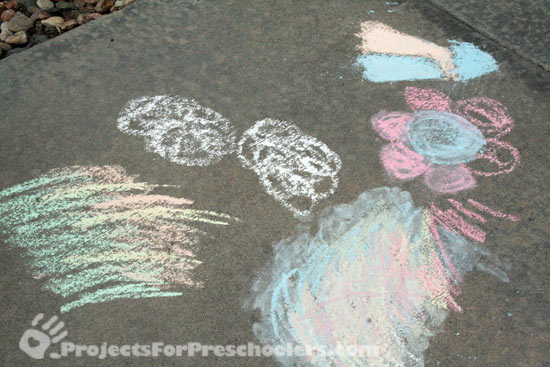 Materials you need
Chalk
Water in a container
Paint bushes
How to paint with sidewalk chalk
Draw with the chalk, making lines and coloring in shapes
Dip the paintbrush in water and then paint the water over the chalk. The water will smudge the chalk and create more of a painted look.
Note: some chalk washes off rather easily, so too much water painting will erase the chalk rather than create a painted look – so test before you do too much.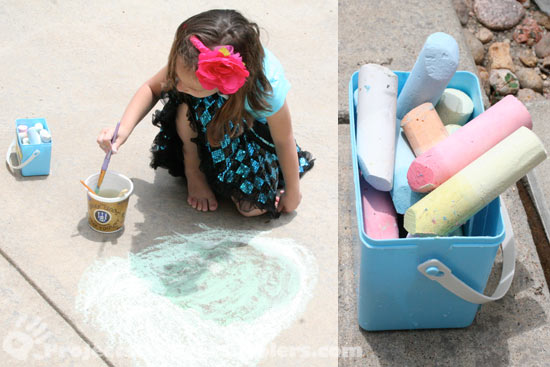 If you don't have sidewalk chalk, try just sidewalk (driveway) painting with water alone. It's fun to paint on the concrete and then see the sun dry it up and you can start all over again. Make sure to let your child know ahead of time that the sun with evaporate their art and it will disappear. This way you should be able to prevent any sad kids when the art disappears in the heat. If you're using chalk, the water dries up, the chalk will remain (until you wash it off or it rains a bunch).
I especially love this sidewalk chalk painting activity because it encourages the kids to get outside AND be creative. They have so much fun drawing whatever they like and then you can add that extra art activity of painting. Try different kind of brushes, layer colors of chalk, paint and then color again. Experiment with the supplies and see what creative fun you can have.