Crafting can become an expensive activity, especially with the amount of paint, glue, glitter and even paper preschoolers love to use. Instead of always buying new supplies for projects, look around the house and you'll find loads of crafting fun right in your own home. Recycle containers, cardboard and other items to reuse as in your crafting projects and other fun preschool activities.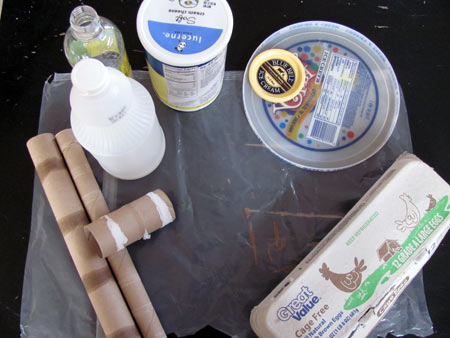 Here are 5 suggestions for every day items you can recycle to use with your preschool craft projects.
Cardboard tubes – toilet paper rolls, paper towel rolls and even the cardboard tubes inside your tinfoil boxes are great basics for craft projects.
Plastic lids – we use plastic lids as paint trays all the time. They wash off super easy and with the variety of sizes can accomodate any painting project pallet.
Bottles and tubs – Recycle your plastic bottles, tubs and boxes to use as organizational containers, sorting activity holders and a whole slew of other preschool activities.
Egg cartons – great for sorting projects with their individual spaces to place various objects. Egg cartons are also wonderful for collecting like items and storing nicely.
Cereal boxes and cereal bags – we use the cardboard from cereal boxes in a number of projects they require a stiffer foundation than standard paper. Cut open cereal bags to use as painting or play dough mats.
Next time you are looking for a fun project idea, try pulling out a few recycled items, scissors, glue and some paint… watch what happens when your preschooler lets their imagination go!