If we could invite a dinosaur over to make a little preschool art with us, how do you suppose they would hold that paint brush? I think T-Rex would have a hard time with those tiny arms! We decided to try a little painting with dinosaurs and you can too. Great yourself a pile of plastic toy dinosaurs, some kid paint and have fun! The best part about this preschool art activity is that the set up is minimal, but the kids thing it's really neat.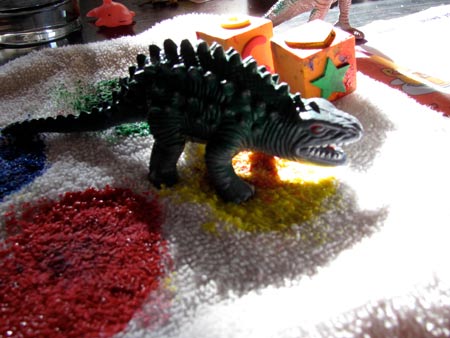 What you need to paint with dinosaurs:
Plastic/washable dinosaurs
Washable craft paint or tempera paint
A washcloth or paper towel
Paper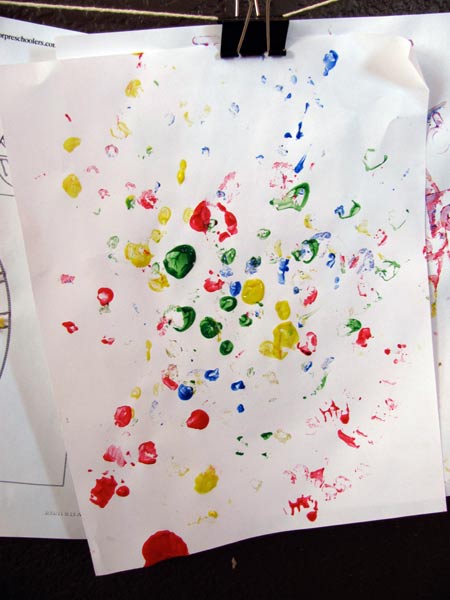 How to paint with dinosaurs:
Put some paint on a washcloth, this will make it easier to cover the dinosaur feet with paint.
Make tracks, designs and fun dot patterns on the paper with the dinosaur's paint covered feet.
Tip: Try to find find dinosaurs that are more of a soft plastic, rather than hard plastic, the paint adheres a bit better. However, both plastic types will work.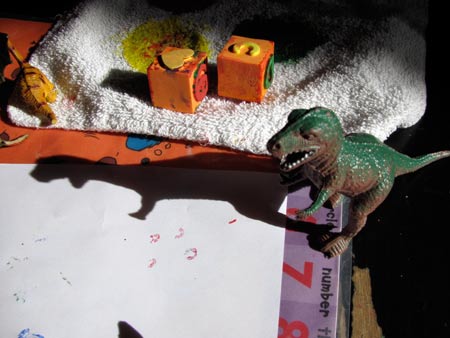 When you're finished with the painting in this project, your preschooler can then enjoy a dinosaur bath and some water time fun. Allow them to use the same washcloth to clean up all the paint on the dinosaurs they painted with.