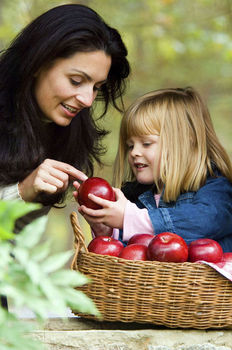 The theme this week for Kid Fun Day is Apples. This is our very first Kid Fun Day project. Sharing with the letter A, and apples seem to represent so many things that imply first, new and getting started. So let's get started with our apple projects…
Apples not only make for some yummy snacks, they are also inspiration for a wide array of arts, crafts, games and more. Have you tried stamping with apples? Or maybe you want to practice colors with red, green and yellow apples. Have an apple tasting day and explore the different flavors. There are so many fun apple themed projects you can do with your preschooler.
Share your own fun apple ideas for preschoolers and young children by clicking on the link below.
Here are some favorite project ideas using apples as the project theme:
Game: Apple Bingo – download this free Apple bingo game set.
Printable: Apple coloring page – a free coloring page of yummy apples.
Recipe: Apple sample plate – make a tray of cut apples in different varieties as well as a few different kinds of dipping sauces (caramel, yogurt and peanut butter work well).
Craft: Paper bag apple – Fill a paper bag with leaves, tape the top closed. Paint red and then add construction paper leaves. (apple craft project idea from preschooleducation.com)
Free apple clipart: grab these three apples for your own use.