Here's a set of free Apple Bingo printables so you can make and play your own bingo game.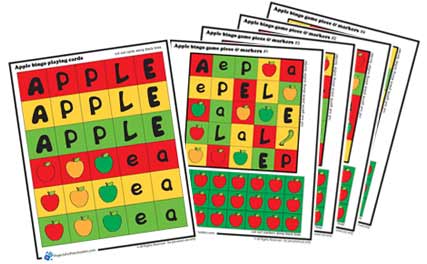 This set allows for up to 4 players. There are 6 sheets to print out for the complete Apple Bingo set:
Game boards and markers: cut out the game board and cut out the individual square game markers on the bottom of the page
How to play Apple Bingo
Each player gets a game board and some markers
Place the playing cards face down in a deck
Each player takes a turn drawing one card from the deck.
As each card is drawn, all players check their game board, if they
have a square that matches the current card, they cover the
square with a marker.
The first player to get a full row of covered squares wins.
Only horizontal or vertical covered rows count.
Alternative play options:
Allow diagonal rows to count toward winning.
Play Black Out! – All squares on a game board must be covered to win.
Extra fun game making ideas:
Print out the game pages and let your preschooler paint or color the back side rather than having a plain paper look.
Print out the game pages and adhere to colored card stock or recycled cardboard from cereal boxes then cut out pieces for a thicker play set.
Cut out each piece and laminate to help protect the game.
Thanks to JGoode Designs for the Apple Bingo game design.