Cereal isn't just for breakfast! Make some art with Honey & Oat Blenders or make super yummy muffins with a combination of Strawberry and Blueberry Mini Spooners. These two great activities are created using Malt-O-Meal cereals and you can "bag the box" while you're at it. Malt-O-Meal cereals come in a resealable bag instead of a bag inside a cardboard box, so you can help save a few trees while you're getting crafty with today's featured projects.Your preschooler is going to love this breakfast creativity, so grab a couple bags of cereal and get ready to have some fun! When you're finished, Check out the giveaway below!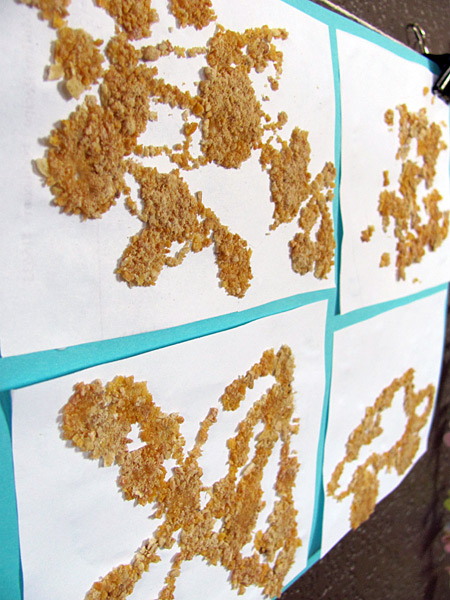 Cereal painting
This is an art project that looks a little like sand painting when you're finished. Cereal with a variety of ingredient types makes for an interesting texture and a really fun art supply. You'll need to crush the cereal and flatten it to make your art. A rolling pin works best, but you can try using a soup can or some other heavy cylinder.
Supplies you need for cereal painting:
Malt-O-Meal's Honey & Oats Blenders (with Almonds)
Rolling pin
Wax paper
Liquid glue
Paper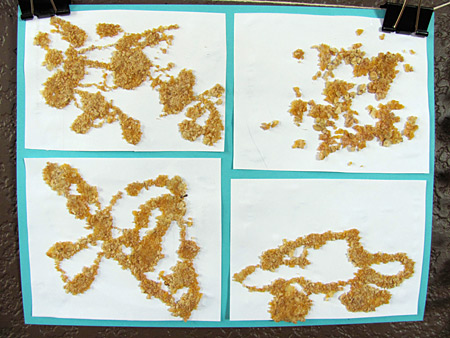 How to create cereal paintings:
Place a handful of cereal on one half of a large piece of wax paper.
Fold wax paper over to cover the cereal.
Using the rolling pin, crush the cereal until its relatively fine and looks to be flattened. Move aside.
Cut a standard piece of paper into 4 pieces so you end up with small, notecard sized papers.
Using glue, "draw" a picture on the paper.
Remove top piece of wax paper so cereal is exposed. Place paper with glue drawing, glue side down on the cereal.
Gently press on back of paper. Lift gently and set aside to dry, glue/cereal side up.
Repeat for 3 additional pieces of paper.
Once dry, glue individual papers on to larger colored paper for a pretty display of the 4 cereal art pieces.
Watch the video to learn more about this cereal painting art project:
You can also use cereal to make yummy food other than just breakfast in a bowl. Below is a fun recipe to make muffins using another of Malt-O-Meal's cereals. These treats are loads with yummy goodness and are easy to make. Your preschooler will love to help you make them and eat them!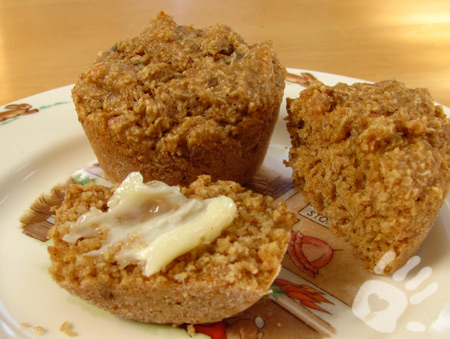 Strawberry and Blueberry Mini Spooners Muffins
There are a number of recipes available for cereal muffins. What I like about this is the yummy combination of flavors and the great texture the Mini Spooners adds to the mix. You'll get nice bites of sweet and salty along with hints of berries through the entire treat.
Ingredients:
2 eggs
1/4 vegetable oil
1 cup milk
1 cup flour (we used whole wheat)
1/4 cup granulated sugar
1/4 cup brown sugar
2 1/2 tsp baking powder
1 tsp salt
2 cups cereal, ground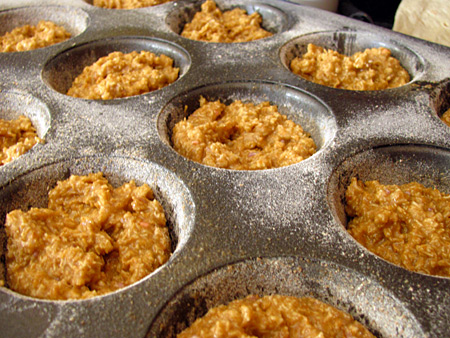 Directions:
First grind the cereal in a food processor. You will need approximately 3 cups of whole Mini Spooners cereal to make 2 cups of ground Mini Spooners cereal required for this recipe.
Preheat oven to 350 F
Lightly grease and flour muffin pan
Beat eggs. Mix in oil, milk and sugars.
In a separate bowl combine together all remaining dry ingredients.
Pour wet ingredients into dry ingredients and mix well. Batter will be lumpy.
Fill muffin cups 2/3 full with batter.
Bake for 20-25 minutes or until a toothpick comes out clean.
Remove from oven and cool on rack for at least 15 minutes before serving.
Makes 12 muffins.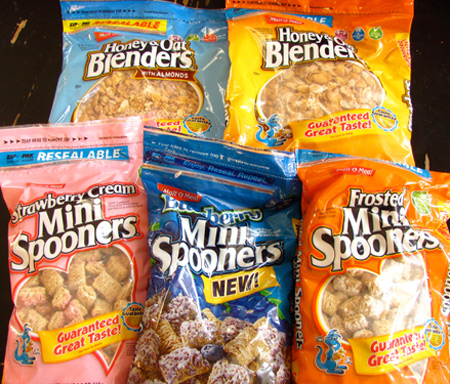 Malt-O-Meal cereals come in a wide variety of flavors and cereal types. We sampled 5 different cereals. My kids love the blueberry Mini Spooners while my favorite is the Honey & Oats Blenders with Almonds; it's like granola and cornflakes combined.. great texture and tastes as fabulous as it's smells.
More information about Malt-O-Meal cereals can be found at:
Malt-O-Meal will give one lucky Projects for Preschoolers reader a sample pack of Malt-O-Meal cereal (yum!):
Required Entry: Visit BagTheBox.com and then come back here to leave a comment below telling me what you like most about the Bag the Box concept and Malt-O-Meal cereal, do you have a favorite flavor?
Make sure to include a valid email address so you can be contacted.
Extra entries: (please leave a separate comment for each)
1. Subscribe to ProjectsforPreschoolers newsletter.
2. Join Malt-O-Meal and Projects for Preschoolers on Facebook.
3. Follow Projects for Preschoolers on Twitter and share by tweeting:
"I'm excited about the Malt-O-Meal Bag the Box giveaway at @funforpreschool – find out more: http://wp.me/p1yvdf-SY #pfpgiveaway".
Giveaway will close Thursday, June 30, 2011 at 7pm Eastern time. This giveaway is open to US residents only. One winner will be selected at random using "And the Winner Is". If the winner can not be reached within 72 hours, a new winner will be chosen.
I was provided with product from Malt-O-Meal for review. All opinions are 100% mine.