I'm always looking for craft supplies on the cheap. Recently I found this great bag of preschool craft goodies at Target. Stop by the $1 bins at your local Target for some great finds to add to your preschool project list. There's almost always stickers, activity books and various mini kid craft kits. This week we took at look and found some ABC and number stamps, encouragement stickers and foam shapes.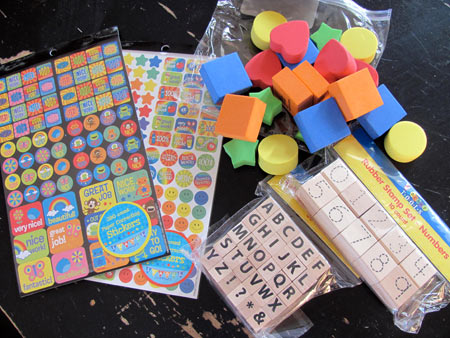 The shapes are our favorite find. I was excited for the sorting and counting this activity offers. My daughter added her crafty imagination to the play table, turning these little shapes into decorated foam stamps. She used he stickers to decorate each shape with happy messages. Then, using standard poster paint, she created a fun stamped picture. The foam washes easily and for only a dollar, we were able to add some new fun tactile activity fun to our play table.
The Target dollar bins are also a great place to shop for road trip or summer vacation activities. We picked up a My Little Pony activity book and some coordinating stickers to our to our road trip activity bags. There were also a whole series of Cat in the Hat goodies, including 3 different tote bags, pencils, erasers and notepads.
What fun have you found in Target $1 bins?